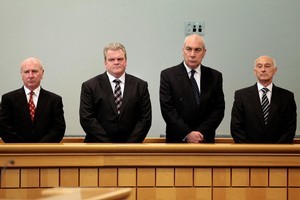 Four former Bridgecorp directors, including Rod Petricevic, appeared in the High Court at Auckland this morning and plead not guilty to charges for misleading investors.
Petricevic, Rob Roest, Gary Urwin and Peter Steigrad face 10 Securities Act charges for allegedly making untrue statements in the investment statements, registered prospectuses and extension certificates of Bridgecorp and Bridgecorp Investments.
Prosecuting lawyer, Brian Dickey, alleged this morning the company's financial health had "considerably deteriorated" , yet these statements did not make reference to this.
Petricevic and Roest face a further eight charges under the Crimes Act and Companies Act for knowingly making false statements that Bridgecorp had never missed interest payments to investors, or repayments of principal in the company's offer documents.
The Crown justified these additional charges as they alleged Petricevic and Roest were aware the company had missed payments from February 7 2007.
As managing director and chief financial officer of the company, Petricevic and Roest had a special responsibility to ensure these documents were correct, Dickey said.
Bridgecorp collapsed in July 2007 owing $459 million to 14,500 investors.
It is likely secured debenture holders will recover less than 10c in the dollar.
The trial of the four was due to start in July but was delayed due to issues of legal representation.
The Crown will make its opening statements today and tomorrow and following this, the trial will be adjourned until November 14 and will run until the court closes for the year.
The trial will begin once again on January 23, where it is expected to run until March.
Former Bridgecorp chairman Bruce Davidson plead guilty to misleading investors and was sentenced to nine months' home detention and 200 hours of community work.
He was also ordered to pay $500,000 reparations, which will be distributed to out-of-pocket investors.