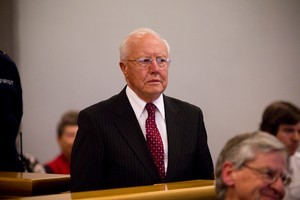 The trial of four former Bridgecorp directors begins in the High Court at Auckland today. The directors - Rod Petricevic, Rob Roest, Gary Urwin and Peter Steigrad - face allegations they made untrue statements in Bridgecorp's investment documents and registered prospectuses.
Bridgecorp collapsed in July 2007 owing $459 million to 14,500 investors. Receivers said in July that debenture holders were likely to get back less than 10 cents in the dollar.
The case against the four is being brought by the Financial Markets Authority for alleged breaches of the Securities Act. If found guilty, the directors face a maximum penalty of five years' imprisonment or fines of up to $300,000.
Their trial is expected to take until March.
Bridgecorp's former chairman, Bruce Davidson, pleaded guilty to 10 Securities Act charges of misleading investors and was sentenced on October 7 to nine months' home detention and 200 hours' community work.
He was also ordered to pay $500,000 reparations, which will be distributed to out-of-pocket investors.
Roest and Petricevic face separate criminal charges brought by the Serious Fraud Office, which are expected to go to trial next year.
Bridgecorp is just one of the failed finance companies that has been investigated by the FMA or SFO. The Herald looks at some of the others that have reached court or are being probed.
Capital+Merchant Finance
Capital+Merchant Finance offered property and investment loans and went into receivership in November 2007 owing $167 million to around 7500 investors. They are unlikely to recover any of their losses. The SFO has laid two sets of charges against Capital+Merchant directors. Six criminal charges were laid in December last year against directors Neal Medhurst Nicholls and Wayne Leslie Douglas concerning loans of about $14.5 million made to three companies that converted two Palmerston North high-rise office blocks into student accommodation.
This case is expected to go to trial in February 2012.
The SFO in July laid a further 11 charges under the Crimes Act against Nicholls, Douglas and former director Owen Francis Tallentire relating to transactions worth $28 million made between 2004 and 2006. It is alleged these transactions breached the company's trust deed. No trial date has been set for these charges.
There is also a Financial Markets Authority case pending against Nicholls, Tallentire, Douglas and fellow directors Colin Ryan and Robert Sutherland. The Crown alleges the company's offer documents and advertisements misled investors.
These alleged breaches of the Securities Act have a maximum penalty of five years' imprisonment or fines of up to $300,000. Nicholls and Ryan are facing additional Securities Act charges which come with a maximum fine of $300,000.
This trial is expected to start in April 2012.
Belgrave Finance
Belgrave Finance offered property loans and went into receivership in May 2008, owing around 1000 investors $20 million. Receivers anticipate a recovery of around 21c in the dollar. The FMA alleged two Belgrave directors - Stephen Charles Smith and Shane Joseph Buckley - and their associate Raymond Tasman Schofield breached the Securities Act by making untrue statements in the company's offer documents.
The charges were filed last month and carry a maximum penalty of five years' imprisonment or fines of up to $300,000.
The SFO also laid 60 criminal charges last month against the three men for allegedly misrepresenting how investor funds would be used. No trial date has been set.
Dominion Finance
Dominion Finance Group and North South Finance were operating subsidiaries of the NZX-listed Dominion Finance Holdings. Both companies offered property and commercial loans. DFG went into receivership in September 2008 and NSF went into receivership in July 2010. DFH entered voluntary administration in October 2008 and was placed into liquidation in February 2009.
In total, it is estimated the group owes creditors $400 million.
The FMA alleges six former Dominion directors - Terence and Ann Butler, Richard Bettle, Vance Arkinstall, Paul Forsyth and Robert Barry Whale - misled investors by misrepresenting investment risks and made false statements in the group's registered prospectuses. The directors' High Court trial is scheduled to start in February. The SFO is investigating the companies but has not laid any charges.
National Finance
National Finance, whose core business was car finance, was placed in receivership in May 2006, owing 2000 investors $21 million. About 49c in the dollar is estimated to be have been recovered by receivers. In July, the company's former director, Trevor Allan Ludlow, was convicted of seven charges brought by the Serious Fraud Office relating to theft as a person in a special relationship, and false accounting. He was sentenced in the Auckland District Court last week to six years' imprisonment. Former National Finance accountant John Gray pleaded guilty to theft and false accounting charges last year and was sentenced to nine months' home detention. A separate Financial Markets Authority case against Ludlow, his former wife Carol Braithwaite and co-director Anthony Banbrook for alleged breaches of the Securities Act is due to go to trial in the High Court at Auckland next July.
Lombard Finance & Investments
Lombard Finance went into receivership on April 10, 2008, owing around $127 million to about 4400 investors. It is unlikely that secured debenture holders will receive more than 24 per cent of their investment back.
Unsecured creditors are likely to receive nothing. The Financial Markets Authority alleges four directors - Michael Reeves, former Cabinet ministers Doug Graham and Bill Jeffries, and Lawrence Bryant - made untrue statements in a 2007 prospectus, investment statement and advertising material. Their trial began in the High Court at Wellington this month and the defendants pleaded not guilty to charges relating to alleged breaches of the Securities Act.
Hanover
The Financial Markets Authority is investigating whether the registered prospectuses of Hanover Finance, Hanover Capital and United Finance breached the Securities Act.
Some 16,000 investors lost more than $500 million when the companies collapsed.
The Serious Fraud Office is also investigating the companies. Neither body has laid charges.