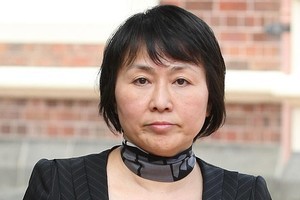 A bankrupt New Zealand businesswoman facing bribery and money-laundering charges in Hong Kong might be arrested if she returns here.
May Wang, frontwoman for a Chinese bid for the Crafar family's dairy farming empire, is facing bribery and money-laundering charges laid against her by the Hong Kong Independent Commission Against Corruption over dealings said to have happened while she was trying to buy the farms.
"Whether or not the bankrupt will be able to return to New Zealand will depend on the outcome of the Hong Kong prosecution," said Official Assignee David Harte.
He said authorities here had been aware "for some time" that Wang, also known as Hao May, had been making unauthorised travel to and from New Zealand but decided not to act.
"To assist the Serious Fraud Office and the Hong Kong authorities with their ongoing investigation, the Official Assignee has not previously acted on this information despite opportunity to arrest the bankrupt at the airport," Mr Harte said.
"Now that charges have been laid by the Hong Kong authorities, the Official Assignee will consider whether any further action is required in regard to this unauthorised travel."
Mr Harte said a bankrupt who travelled without authorisation was liable, on conviction, to imprisonment of up to three years and/or a fine not exceeding $10,000.
A warrant has also been issued in Hong Kong for the arrest of co-accused Jack Chen, the Natural Dairy company founder, who failed to turn up to face his court charges on Monday.
Yesterday, staff at the United Press, an Auckland Chinese newspaper founded by Chen, were told that the newspaper was being "suspended indefinitely".
"The United Press has been suspended and we do not have any plans at the moment as to when it will resume again," said editor Yuanyong Yuan.
The United Press was founded by Chen partly to help a Chinese political party which he also co-founded, the New Citizens Party, win seats in Parliament.
But the newspaper was found to have breached electoral laws in March when it published an election day edition for the Botany byelection supporting party candidate Paul Young.
The party announced this week that it would withdraw from next month's general election.