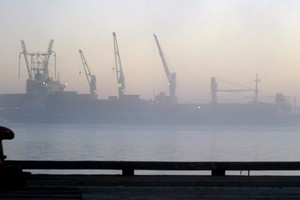 Rio Tinto's Tiwai Point aluminium smelter, an asset worth about $1.76 billion, would easily make the grade as a standalone, NZX-listed entity, says Deutsche Bank analyst Paul Young.
The multinational resource giant said this week that it was looking to divest 12 aluminium-producing assets, of which Tiwai Point is one.
Also for sale are the Boyne, Bell Bay and Tomago smelters in Australia, and the Gladstone power station, which provides electricity to the Boyne complex in Queensland.
Rio Tinto will also sell its Gove bauxite mine and aluminium refinery.
Sydney-based Young said that one of the world's biggest producers - America's Alcao, Russia's Rusal and China's state-owned Chalco - would be possible contenders for Rio Tinto's unwanted assets.
But aside from China's aluminium smelters, the appetite for new assets is not great, he said.
"Ultimately it is possible for Tiwai to become listed in New Zealand," Young said.
"Floating the lot is a possibility, however, the fact that they have actually separated Tiwai into its own business unit means that it is keeping its options open."
Deutsche Bank estimates the smelter to be worth US$1.4 billion ($1.76 billion).
Potential buyers of Australian assets would have to go through an exhaustive process to gain Foreign Investment Review Board approval, so listing all or some of the the assets could become a viable alternative, he said.
Tiwai Point is classed as being a high-cost producer of aluminium, but Young said the operation had strong cashflows.
The smelter is run as a tolling operation - with allocation of aluminium apportioned by the smelter's ownership - 79.4 per cent to Rio Tinto and 20.6 per cent to minority owner, Sumitomo.
Tiwai Point is old - it was built in 1971 - but Young said it had three things going in its favour.
The first was that it still ranked as a medium to large-scale producer - at 355,000 tonnes a year.
The second was its power contract, which expires at the end of 2030.
The third was Tiwai's proximity to Australia's aluminium refineries.
Rio Tinto's decision to sell assets in part goes back to its ill-fated purchase of Canada's Alcan in 2007 at the peak of the commodities cycle.
Returns from Rio Tinto's aluminium division are still well below those of the rest of the group.
- APNZ