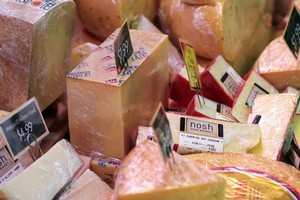 Specialty grocery retailer Nosh Food Market is a tiny player in a trade dominated by supermarket duopoly Progressive Enterprises and Foodstuffs. But the company has no shortage of ambition.
Director and co-founder Clinton Beuvink says Auckland-based Nosh plans to increase its total number of outlets from six to 40, go nationwide and capture a 5 per cent share of the total market over the next five years.
And yesterday Nosh announced a partnership with British grocery retailer Waitrose, which will see the Kiwi retailer stocking more than 100 of the chain's branded products by Christmas.
Mouth-watering revenue will be on the cards should the company succeed in seizing a 5 per cent slice of the New Zealand grocery sector. Supermarket and grocery sales were worth over $16 billion in this country last year, according to the New Zealand Retailers Association.
Beuvink said the company potentially had a 1 per cent share of the Auckland market "in certain catagories" at the moment.
Four of the firm's six outlets are in the city, with the other two in Hamilton and Matakana.
"We are seeing strong, double-digit growth across our business, on a same-store basis."
He said Nosh's expansion plans would be "very much consumer led".
"If we think there's good interest in a new town then we'll look at that."
But Beuvink said the growth would initially be Auckland-focused, as there was plenty of room for more outlets in New Zealand's biggest city.
"We've got nothing on the [North] Shore, nothing further south or west - we could open a heap more stores in Auckland."
Beuvink said franchising was also a possibility, adding that the success of Foodstuffs' New World supermarkets - many of which were owner-operated - highlighted the benefits of that business model.
At present, all Nosh outlets belong to the company, which is owned by about 12 investors, with founders Beuvink and Chris Moore holding the bulk of the shares.
Nosh opened its first site in Glen Innes in 2006.
New Zealand Retailers Association spokesman Russell Sinclair said there were opportunities for niche operators like Nosh.
"It's a matter of finding a point of difference that distinguishes you from the mainstream players."