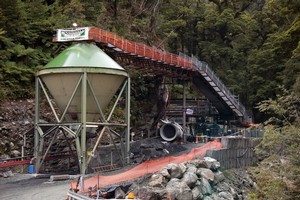 Companies owed money by the Pike River Coal Company have voted overwhelmingly to accept a payment plan, which will pump $3 million back into the ailing West Coast economy in the next few weeks.
Voting on the early payment plan, put forward by receivers PricewaterhouseCoopers, closed on Friday and 288 out of 468 votes were returned every one of them accepting the deal.
About $36m is owed, with about $8m of that on the West Coast.
Greymouth businessman Peter Haddock, who fronted a group representing many of the contractors, said a business owed $50,000 would get about $18,000 (36 per cent), and someone owed $100,000 would get $28,000 (28 per cent).
However, when the mine was sold they may get more, he said.
Businesses owed less than $10,000 - a number of them on the West Coast - would get paid in full, and former Pike River employees owed wages would also get paid now, Mr Haddock said.
"Our solicitors think it is probably the first time in New Zealand legal history that unsecured creditors are being made payments in advance of secured creditors," he said.
"It (came about) only because of the threat of liquidation, support of the media, and the decision of New Zealand Oil and Gas (to allow some insurance money to go unsecured creditors).
"Some businesses had written off the money, and others had needed outside help to keep afloat.
"It will be a real welcome to a lot of people.
Receiver John Fisk said the money should be paid within a fortnight.
The deal was developed when New Zealand Oil and Gas Limited, Pike River shareholder and the largest secured creditor, agreed with the receivers to pay out $10.55m of the insurance settlement.
Under the deal, unsecured creditors will receive a part payment of the first $10,000 of their claim (or their full claim if less than $10,000) and up to 20c in the dollar for any balance above that amount, up to a capped aggregate amount of $10.5m.
In turn, they have agreed not to bring liquidation proceedings against Pike River Coal, although the company remains in receivership.
Mr Fisk said those who voted represented $30.4m out of the $36m owed.
- APNZ