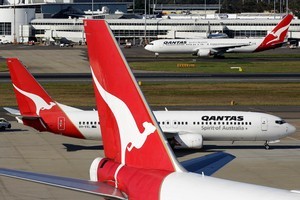 Qantas CEO Alan Joyce and other senior executives have received death threats.
The threats, being investigated by both the Australian Federal Police and NSW police, appear to be linked to the union dispute enveloping the airline.
It has been revealed senior staff had their car windows smashed and homes damaged after refusing to strike and Mr Joyce himself received an explicit death threat, the Daily Telegraph reported.
A typed letter, sent to Mr Joyce's home, read in part: "It's coming soon Paddy. You can't even see it!" the paper reported.
"The Unions will fight you ... Qantas is our airline, started & staffed by Australians, not foreign filth like you."
"All your evil plans ... will come back to you very swiftly, & kick you (sic) Irish FOREIGN ARSE out of the country."
A death threat letter was also sent to the home of Qantas spokeswoman and Group Executive Government and Corporate Affairs head Olivia Wirth.
Letters threatening retribution were also sent to management who participated in a contingency workforce during a Transport Workers Union action.
Qantas is involved in an ongoing industrial dispute, with unions fighting a planned restructure that would see 1000 staff cut.
- AAP