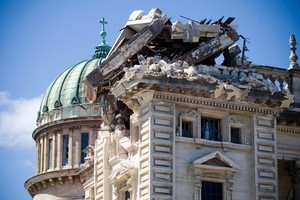 Insurance premiums on houses will soon increase by nearly one-and-a-half times as a result of the Christchurch earthquakes.
In fact, insurance brokers say house policies have already increased by 25 to 30 per cent this year, even in cities like Auckland which are not earthquake-prone.
Insurers Vero and Lumley - which have increased their prices - confirmed the hikes. Vero chief executive Gary Dransfield said the increases began soon after the first Christchurch quake, rather than in one hit.
But future increases - probably after the election - in the Earthquake Commission levy could raise the total hike to close to 1 times the insurance premiums of just a year ago.
The EQC disaster fund is now in "a state of negative equity" - its liabilities are greater than the value in its funds. Government ministers are now considering a report on its future.
Prime Minister John Key has told Radio New Zealand that the annual levy is about $60 for the average household. This could increase to between $120 and $180 "fairly quickly".
Assuming the upper estimates are accurate, adding all the increases together gives a total increase of about 150 per cent since the first quake.
So why have Auckland insurance prices increased as well as those of earthquake-prone cities - Christchurch, Napier and Wellington?
Dransfield says it is necessary to share the post-quake risk around the country to a degree, although people in shaky cities pay the highest premiums. There is also some volcanic-eruption coverage in Auckland.
But it is also getting harder to get insurance cover on pre-1935 inner-city buildings in central Auckland, says a broker who has asked not to be named. "You ring up seven companies and five will decline you," he says.
"They just turn you down flat because of the earthquake risk."
In earthquake-prone Napier, the quake component for some pre-1935 buildings is two to three times higher this year, says Kim Matthews, Hawkes Bay branch manager of Rothbury Insurance Brokers.
Insurers in Napier appear relatively sophisticated. Many are prepared to insure old and new buildings at a price, but "premiums on modern buildings are up by 15 to 20 per cent and sometimes by more", she says.
After the collapse of two Christchurch cathedrals, insurers won't give God a free ride. The company which insures most New Zealand churches says it will no longer provide them with quake cover.
Since the September quake, Ansvar New Zealand has handled $700 million of quake-related claims - receiving only $35 million in premiums during the same period.
The global credit-rating agency AM Best has downgraded its assessment of the niche insurer's financial strength from A- to B++.
On the back of this, Ansvar NZ announced on Thursday it would write no new quake cover and would renew earthquake insurance only until December 1 this year.
Wellington Anglican and Catholic churches are reeling from an expected doubling of premiums next year. Wellington's Cathedral of St Paul - a reinforced concrete building - has not had quake cover for years, says archdeacon Bernard Faull. Some vestries are considering whether they can afford to insure buildings at all, says another priest.
Down the road, the 111-year-old Sacred Heart Cathedral faces a premium increase of "a minimum of 100 per cent - and maybe higher", says parish priest Father Jim Lyons.
Sky-high excesses are another killer blow - churches and owners of many commercial buildings in Wellington and Napier face excesses of 10 per cent of their buildings' value if they claim for a quake.
At the heart of the matter is the high cost of reinsurance - the cover provided by large overseas firms - says Insurance Council CEO Chris Ryan.
"Reinsurers are treating New Zealand as one market," he says. New Zealand has reinsurance for the next one to two years, depending on the company.
Ryan expects premiums for houses and other buildings to keep increasing over the next two years. Houses in quake-prone areas will face excesses of "$30,000 to $50,000" if reinsurers cannot be found.
That will be similar to California, where houses reportedly have excesses of 15 per cent - about $30,000 on a $200,000 house. The California Earthquake Authority provides 70 per cent of house insurance in the state. Premiums are about $900 a year as opposed to an estimated $550 (including levies and GST) in New Zealand.
But prices won't be known until reinsurance is renegotiated, next year in Vero's case.
Increases beyond 2013 also depend on whether Christchurch gets another major aftershock or Wellington strikes it unlucky. "There is still a lot of uncertainty in the market around where reinsurance rates will settle," says Lumley Insurance's Paul Munton.
The EQC's disaster fund will have paid out all of its funds in 2015, says spokesman Gordon Irving.