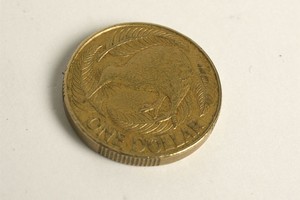 The New Zealand dollar is heading for a declining quarter, after being hammered yesterday by the actions of two ratings companies, downgrading the sovereign debt rating one notch to AA.
The kiwi dropped to US76.76 cents at 5pm in Wellington, having tumbled from as high as US78.28c in late New York trading the previous day. It is now at the lowest level since early April.
Finance Minister Bill English welcomed the lower dollar, saying it would deliver some offset to agricultural commodity exporters, who are seeing world prices come off highs of the past 12 months.
"We've seen a significant New Zealand dollar reduction which will push against the drop in export prices," he said.
Chris Tennent-Brown, economist at Commonwealth Bank of Australia, said: "These things only come along every year or so. It's a big deal, it has happened but it is just one of the many things" driving the New Zealand dollar.
The direction of the currency will be very much driven by global events in coming days, he said.
Fitch Ratings said global volatility and the high level of offshore indebtedness could see the current account deficit billow in coming years.
The kiwi dollar was broadly lower. On the trade-weighted index, or TWI, it fell to 68.06 from 68.18 on Thursday morning.
It fell to A78.43c from A78.78c yesterday morning.
US76.76c
What the NZ dollar was buying at 5pm