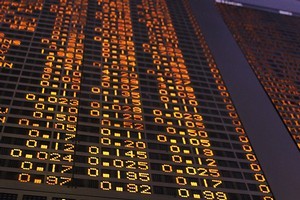 Volatility on world financial markets has so far failed to derail plans for four new share issues destined to hit the market before Christmas, but it may prove a factor when it comes to pricing them, market sources say.
Greece's sovereign debt problems and fears that it will go into default had played havoc with market sentiment globally, but not to the extent that it had put any of the sharemarket floats in doubt, investment banking sources said.
At stake are partial floats for retirement home operator and developer Summerset, online trading platform Trade Me, Telecom's network business Chorus, and retirement village company Vision Senior Living.
"I think everyone has pretty much decided to put the hammer down and go for it," one investment banking source said.
But he said that if the sharemarket lost more ground, the issues' promoters would have to take another look at their timing.
The promoters are nevertheless keen to have their issues completed before the Government embarks on its partial privatisation programme, which is expected to start in the second quarter of 2012, assuming a National-led administration is returned to power at the November 26 general election.
Talk of new issues surfaced around the middle of the year, when the sharemarket was at three-year highs.
Since then, the American debt ceiling impasse and Europe's escalating sovereign debt problems have dragged the market lower.
However, the local market has shown a degree of resilience. Among the listing prospects, Summerset is expected to register its prospectus today. Pricing for this issue will be set by a so-called book-building process, which is expected to start next week.
Australian private equity company Quadrant is selling about 50 per cent of the company, which is expected to have a market capitalisation of about $400 million upon listing. The float will also involve the raising of around $50 million in fresh capital for the company's ongoing development.
The float of about 30 to 35 per cent of online auction website Trade Me by its owner, Australian publisher Fairfax, is expected to to be worth around $500 million.
A book build for Trade Me is expected to take place in the first week of November and the company is in the process of appointing co-managers and joint lead managers for the issue.
A "roadshow" for Trade Me is expected to happen towards the end of October and the stock is expected to list in the first or second week of December.
The Vision Senior Living (VSL) float, worth around $80 million, is expected to list around October-November, or January-February 2012. Promoters of VSL are understood to be visiting institutions for a round of pricing discussions this week.
Telecom shareholders will meet on October 26 to vote on whether Telecom and Chorus will split in two on November 30.
- APNZ