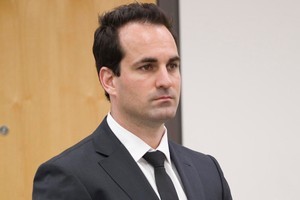 Peter Huljich has this morning plead guilty in the Auckland District Court to a charge relating to misleading investors in his company's KiwiSaver scheme.
Huljich faced one charge under section 59 of the Securities Act, and his company two charges - one under section 59 and another under section 58. The company - Huljich Wealth Management (now known as HWM NZ Holdings) also plead guilty this morning.
The case was brought by the new Financial Markets Authority, which replaced the Securities Commission.
The charges relate to claims investors were misled by misrepresentations of the performance of the company's KiwiSaver scheme in offer documents.
Huljich is set to reappear on December 8 for sentencing. The maximum penalty is a fine of $300,000. Judge Kiernan deferred entering a formal conviction until sentencing.
Huljich originally faced eight charges under of the Securities Act, but seven were formally withdrawn today and one amended after an agreement between the FMA and defence.
Members of the Huljich KiwiSaver schemes were transferred to the Fisher Funds KiwiSaver scheme when it was sold earlier this year.
The takeover was exclusively for the assets and did not include any Huljich executives.