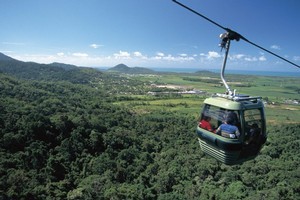 A gondola ride over the bush of the Waitakere Ranges is proposed in a home-grown bid to boost environmental tourism in West Auckland.
The gondola idea is modelled on the Skyrail, which carries Queensland tourists for 7.5km over the tropical rain forest canopy near Cairns.
"The marketing of this attraction is superb but the rainforest is a poor relation to what we have in the Waitakere Ranges," said John Newick, president of the Strategic Property Advocacy Network.
The group, which represents 1000 residents, suggests the gondola as part of a "Triple Harbour Trailway" in its submissions on the economic development strategies of the Waitakere Local Board and the Auckland Plan.
"Crossing the ranges, it would allow riders to be above the bush to observe the natural landscape, bush and wild coast," said Mr Newick.
"Quick access would be provided from cruise ships in downtown Auckland and ferries arriving at Hobsonville.
"When the number of young people employed by such attractions is considered, we clearly have huge potential to boost our economy in the best possible way, with benefits for Waitakere and the region."
Mr Newick said the former Waitakere City Council investigated a walkway from Titirangi to Swanson.
This work could help develop a trailway stretching across public and private land from the Manukau Harbour to the Kaipara Harbour.
It would link the Waitakeres with horticulture and environmental tourism opportunities in the Kumeu-Helensville areas and beaches on the Tasman Coast. The Twin Streams trails of Henderson gave road access to the Waitemata Harbour.
No specific site is proposed for the gondola but the group believes it could be paid for by a public-private partnership.