From clean air to cosmetics, Auckland firm sees huge potential in nano-fibres.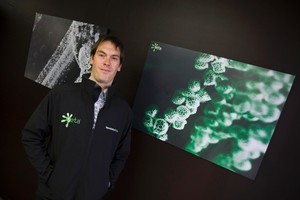 When bottled water first hit shop shelves in a big way, many Kiwis were sceptical. Why pay $3 when it's free out of the tap? But people do pay for water and today it is a huge industry.
"People care about what goes in their bodies," says Iain Hosie, technical director at Revolution Fibres, an Auckland company keen to exploit people's concern about the environment in which they work and live by making air filters specifically designed for home and office use.
"People are now beginning to question the air that we breathe," Hosie says. "Indoor air quality is a major environmental concern, particularly overseas - and New Zealanders are waking up to that as well.
"It's fair enough you're sceptical about why you need a good air filter," he replies, when asked about public demand for such a product. "Many people don't understand that the so-called fresh air they breathe [contains] a lot of particles and dust and pollen and spores."
It's not just homes and offices; quality air-filtration technology can be applied to cars, planes and other public transport.
"It's an emerging market," Hosie concedes, "but there's a lot of data that [shows] air filtration and personal air filtration like face masks are on a steady climb."
The ability to spot emerging market trends is one sign of a good company, but what makes Revolution Fibres' prospects particularly exciting is its use of innovative electro-spinning technology to create nano-fibre (the basis of the filters) from a variety of materials, including collagen extracted from hoki fish skin, a by-product of the catch.
The technology to extract marine collagen was developed by Crown research institute Plant and Food Research, but "we've taken a sound technology that was sort of going nowhere and turned it into an air filter".
Creating nano-fibres by electro-spinning works like this: "You form a droplet out of a solution and you apply a high charge, up to 50,000 volts, causing a fibre to leap from the droplet and hit a charged substrate, a target for the fibre to land on," says Hosie.
This process forms non-woven mats of collagen fibre, which have a range of applications far beyond air filters.
"We're near completion of a range of cosmetics in which the collagen is actually a fibre that applies plant extracts to the skin," Hosie says.
Hoki, a deep-water fish, produces a particular type of collagen that is well-suited to creating fibre.
Extracting collagen from pigs and beef is harder and requires solvents, whereas "we barely use anything more [powerful] than vinegar", Hosie says.
Collagen is the major building block of skin and there is already a big market for it, whether injected, ingested or applied in cosmetics. "[Nano-fibre mats] are a really good carrier for natural antibacterial agents, skin-whitening agents and the like," says Hosie. "Skin whitening means a lot, especially to the Asian community."
Revolution Fibres has teamed up with a Blenheim company, New Zealand Extracts (which supplies plant extracts for the supplements and cosmetics market), to create a collagen fibre containing a clinical dose of extract that dissolves directly on to the skin.
Hosie claims the creation outperforms beauty creams. "The beauty is that 95 per cent of ingredients in a cream is actually the cream and what you really want is collagen and plant extracts. We've distilled cream down to its bare active ingredients. [Women] love it; we've had some fantastic responses.
"We don't want to be an air-filtration company or a cosmetics company.
"We want to produce fibre and someone else in the market can take our product further."
The electro-spinning technology, developed in-house with funding from the Ministry of Science and Innovation, provides the company with a global competitive advantage. "What makes it unique is that we have a lot of flexibility in our machine design and we can control all the different parameters required for electro-spinning different polymers."
That means Revolution Fibres can spin collagen, cellulose or more conventional polymers such as nylon. Hosie's research shows, despite global interest in electro-spinning, "there's not a lot of machinery that can actually produce the quantities needed for these applications. We saw a lot of researchers whose fascinating work could go nowhere because there was no cost-effective way of up-scaling their ideas."
The market for the end-product of electro-spinning - nano-fibre - is growing quickly and is estimated to be worth US$2.2 billion ($2.66 billion) by 2014.
The potential is huge, but Hosie is adamant the company is not getting ahead of itself. Its filters have been on the New Zealand market only since April; the cosmetics range is not yet available. Revolution Fibres will concentrate on getting those products to the global market before turning its attention to other uses for its electro-spun fish-skin collagen nano-fibre.