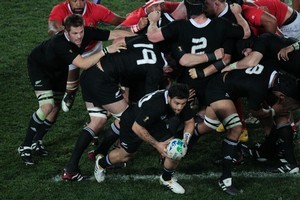 Touch, pause, engage!
You wouldn't only measure an athlete's fitness as a means of performance improvement, and you wouldn't only measure the distance to the goalpost ... So why do we feel that the process of surveying an organisation's climate ends with the finalisation of the survey results? The basic "touch, pause, engage" principles of rugby scrummaging can provide a starting guideline to the action-planning process necessary once at the end of a workplace climate survey.
Engaging in a survey is only one step in the action-planning process. If you do nothing with your survey results, you run the risk of building expectations that will become unfulfilled.
Once you have your survey results, it is important to act fast and harness the momentum created during the survey period. TOUCH base with your employees; feed back the information that was gathered during the survey period.
The process of feeding information back to employees serves to acknowledge the effort employees have put into giving you their feedback, but also shows that their feedback is valued.
If results are good, it is still important to feed this back to employees and celebrate organisational success. There have been notable instances where some organisations have failed to celebrate success after achieving good survey results and have seen a significant decline in their results the following year.
Buy-in is pivotal for any action plan, so PAUSE and step back a little. Give teams a chance to creatively problem-solve, but guide their efforts to ensure plans are specific, achievable, measurable and have time frames.
Then it is time to ENGAGE! Once critical areas in need of improvement have been identified and plans formulated, you will want to assign responsibilities to key individuals further down the chain of command. Ensure they will have the authority needed to do required tasks and that this authority is communicated throughout the organisation. Finally, ensure that you are staying on track by continually assessing progress towards the goalpost.
JRA is running half-day post-survey workshops in Auckland, Wellington and Christchurch this month. Email info@jra-kenexa.com to register.
ON THE WEB: http://www.jra.co.nz/jraworkshop/