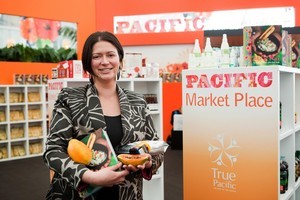 Gourmet produce from the Pacific Islands is on show at the Cloud venue in Auckland as the rugby world starts arriving for the World Cup.
The events centre on Queens Wharf is being used for three days of sampling and sales for gourmet Pacific products including coffee, chutneys, noni juice and natural beauty.
The producers are licensed with a new True Pacific quality mark launched this week - a project driven by the Pacific Co-operation Foundation to help promote the best Pacific products to the world.
Foundation chief executive Markerita Poutasi said Pacific businesses could spearhead export-led growth by exploring niche markets for their quality products.
"In the Pacific, you can find high quality tuna, noni juice, vanilla and coffee products all for the international market," Poutasi said. "Other areas of competitive advantage include natural spa products where ingredients are sourced from local botanicals."
In total 26 producers from Vanuatu, Fiji, Papua New Guinea, Samoa and Tonga had passed the quality assurance programme and been licensed to carry the True Pacific quality mark.
The mark would encourage export demand for products by reassuring consumers they were buying high-quality products, genuinely produced in the Pacific, the foundation said.
"These products target a premium consumer market and provide export income for the communities that produce them," Poutasi said. "There are also an abundance of superb products, most of which never leave their home shores."
The foundation said a wider Pacific Showcase, which also included furniture, homeware and artists, was an unprecedented opportunity for premium Pacific enterprises to connect with consumers, retailers and potential suppliers in New Zealand and would also bring them into contact with international visitors.
"It's a global market place, so it's the international visitors plus all of the VIPs who are here for the [Pacific Islands] Forum ... quite large markets like the EU and like the US are in town so they're all coming down to the showcase as well," Poutasi said.
"It's a great big public event but it also quite a lot of opportunity for these businesses to say we've got a great sustainability story or we've got a great artisan product, we're in your market and this is something for you to take a look at."