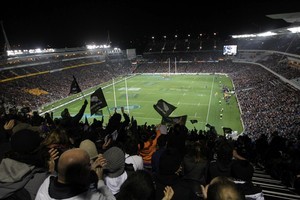 Are you celebrating the World Cup?

The price of going to the Rugby World Cup semifinals and final has tumbled as agents try to offload excess tickets days before the tournament's kick-off.
Yesterday, Ticketek Australia said finals hospitality packages had been discounted by about 5 per cent and other agents have even offered tickets to pool matches at below cost.
Last year, eager fans paid up to $11,000 for hospitality packages to the finals, but prices have dropped as agents face being left with costly pre-purchased tickets.
Agents spoken to by the Herald said the high royalties they paid when buying tickets had stymied sales and led to several facing the prospect of making a loss on cup packages.
We Love Rugby, an Australian travel agency, last week knocked $100 off tickets for pool matches involving the All Blacks.
Australian company Adventure World has offered two World Cup cruises for the price of one.
And the Cruiseco company slashed up to 60 per cent off the prices of world cup cruises in March, according to the Travel Monitor website.
The general manager of Australian agent Total Sports Travel, Mike Jones, was reluctant to discuss any discounts but said cup sales had been "tough".
"Not just tickets, hotels and everything - prices have been set too high and the average person doesn't want to pay for it."
Rugby World Cup hospitality packages can be sold only through 20 official travel agents, who buy tickets through a company called Rugby Travel and Hospitality.
Rugby Travel and Hospitality pays a fee to the International Rugby Board which is passed on to travel agents, who pay royalties on each ticket.
Those fees are as much as 100 per cent for finals tickets.
Vicky Peterson, the manager of cup sales for South African agent Edusport, said the royalties had led to a backlash from customers.
"If we quote a price, and they look at the face values of the match tickets online, they say, 'How can your packages be double?"'
But Rugby Travel and Hospitality operations manager David White said sales had been strong.
Mr White said last-minute discounting was normal activity for an event such as the cup and denied "administration fees" for tickets were too high.
Rugby Travel and Hospitality initially forecast 70,000 corporate tickets would be sold, but has revised that to 50,000.