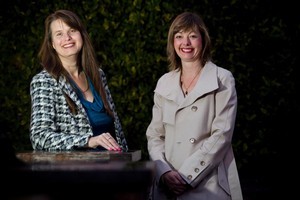 Business transformation consultancy has top British companies among its clients
Katherine Corich, founder of NZ-based international business consultancy Sysdoc, was in the same class at Kapiti College as film-maker Peter Jackson. Josef Roberts, the man who brought Red Bull into New Zealand, now worldwide chief executive of BurgerFuel, was also in her year at school.
"We were all quite individual and we had teachers who responded to our personal styles," says Corich, the Ernst & Young 2010 Master Entrepreneur of the Year.
The linguist, trained commercial pilot, and now business transformation expert, celebrated Sysdoc's 25th anniversary in July. The company has a turnover of around $25 million and 200 staff with offices in Britain, the United States, Australia and New Zealand. Its first job was helping the London Stock Exchange tackle the computerisation of its system; its first big New Zealand job was the full computerisation of Auckland's Telecom exchanges.
Sysdoc is a consultancy which comes into businesses filling a variety of briefs ranging from change management, business systems and process improvement for clients in the oil, telecommunications and banking sectors among others.
Her time as a commercial pilot gave Corich a novel approach to business transformation. She had a desire to "improve the end-to-end process," she says. Simulated-based learning and acknowledgment of the human factor in the cockpit were also vital for businesses.
Her techniques have won Sysdoc a number of international clients. Sysdoc's UK clients include Vodafone Group, Reed Elsevier, Chevron Group and Jaguar Land Rover. And with a lot of work for clients in Asia, an office there is an obvious next step, possibly in Singapore.
Sysdoc has bases in Hamilton, Auckland, Wellington and Christchurch, headed by an NZ chief executive Sue Elsworth and general manager Auckland, Desiree Boticca.
"Kiwi companies, to globalise successfully, have to have a strong home base," says Corich, in Auckland last week. "If you truly want to globalise a business, one of the business's senior executives needs to relocate.
"We've got to move beyond the beach, bach and BMW. It's going to be tough, you are going to [have to] do the hard yards and build up the capability of the local team."
Corich has been in Britain with her family for five years. "I have such a strong management team. We globally interact with each other regularly. I can grow the UK and other countries knowing that New Zealand is in fantastic hands."
Corich is a big believer that SMEs here should have longevity. A float does not appeal.
"I think too many NZ companies look at an exit as the entrepreneurial option. That's not sustainable business," she says.
Sysdoc is one of the UK Working Families Top 30 Family-Friendly Employers and Corich is influencing British business through her appointments to several government panels.
Sysdoc is one of 25 companies on the SME panel selected by the British Cabinet's Efficiency and Reform Group to represent 4.8 million small businesses in Britain. Corich's brief is to see how the SME business community can be selected for more public sector projects. British Prime Minister David Cameron has said he wants 25 per cent of public sector procurement going to SMEs.
Another passion for Corich is social issues. She is particularly concerned about New Zealand's abysmal record on child abuse and thinks Sysdoc can help.
"We have different social issues served by a fragmented number of organisations."
She said in aviation "We protect every single passenger that comes on board our aircraft. We can protect every single child through integrated systems and communications."