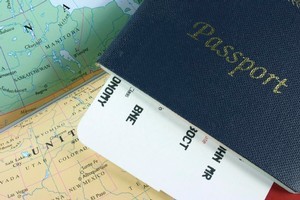 The world is your oyster - or is it? The "Big OE" is a Kiwi rite of passage, but before you set off into the sunset it pays to spare a thought as to how it might affect your career.
Renewed optimism following the global economic downturn has brought about a rise in the number of Kiwis heading overseas in recent months. Taking a new job in a new city can be both exciting and nerve-racking.
When people head overseas it is either for a short-term opportunity to live, work and travel in other countries or a long-term location change.
Those leaving for a short time and who are planning to return home eventually should not lose sight of the long-term implications and benefits that can arise from overseas job opportunities.
In that respect, it pays to plan ahead. Travellers looking for short-term job opportunities overseas should be careful not to pigeonhole themselves by taking a job in an area of their field that is so specialised it may not exist, or for which the experience might not be relevant, once they return home.
The job opportunities you choose to take will ultimately have an effect on your career in the long term.
A recent workplace survey by Robert Half said the opportunity for a higher salary package was something that would entice 52 per cent of New Zealand finance and accounting professionals overseas. Improved lifestyle (52 per cent) and better career prospects (40 per cent) rounded out the three top reasons for Kiwis deciding to move countries.
Tips for professionals heading overseas
* Have a good long-term vision.
Think about where you'd like to be in five years (both career and location-wise) and the role your next career move will play in helping you get there. Choose job opportunities that help you pave the way.
* Do not be too specialised.
Remember that overseas markets are different to those in New Zealand, and therefore require different skill sets. A broader range of experience with skills that are relevant, practical and transferable is generally more useful when the time comes to look for a new role or to move again.
* Talk to the experts.
A good recruitment consultant will always explore your long-term goals and match those to the roles that are available. Re-entering the New Zealand job market with overseas experience can work to your advantage, assuming you have picked up the right skills. Employers value overseas work experience, so make it work for you.
- Megan Alexander is general manager at Robert Half New Zealand.