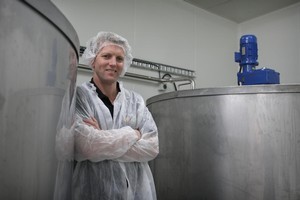 A boutique Auckland yoghurt maker has signed a multimillion-dollar deal that will put its products in more than 8000 convenience stores in Japan.
Piako Gourmet Yoghurt has reached an agreement with a Tokyo-based company for its dairy food to be manufactured in Japan with the potential to be sold in Lawson stores there.
The deal is potentially worth millions of dollars a year, said the company's co-founder, Shaun Jacka.
"It is getting it manufactured by a Japanese dairy company over there and shipped in bulk to its facility where it will package and distribute it to approximately 8500 stores," Jacka said.
"It also wants to sell a range of Piako merchandise.
"It hasn't come back and said what it wants but it could be toy cows and spoons with the Piako label on it or something like that."
This is the second foreign market Piako has cracked this year.
In May, its yoghurt hit the shelves of Harrods of London, rebranded under the name Little Melton Gourmet Yoghurt. The company also signed a distribution deal with Fonterra in May, which over time will see the yoghurt in 90 per cent of New Zealand supermarkets.
Piako was a winner at the University of Auckland Business School Entrepreneurs' Challenge last year and shared $1 million in funding to help it export overseas.
This year's challenge is well under way and 15 companies have made it through to the qualifying round.
The competitors must now submit more comprehensive entries before finalists are announced in October.
The Dragon's Den-style challenge was founded with a $3 million endowment from New Zealand expatriate Charles Bidwill.
Winners are selected by a committee that includes Kim Crawford Wines co-founder Erica Crawford and science and technology investor Neville Jordan.