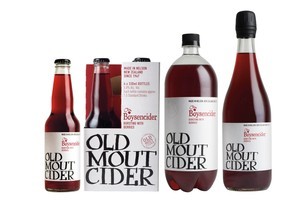 Seventeen awards in one month show Redwoods Cellars is on the right track, says director Scottie Chapman.
He and business partner Justin Hall took over the Nelson-based boutique cider and fruit wine producer 5 years ago after a stint working for Zespri in Japan.
"We were drawn to the interesting range of products Redwoods was producing," Chapman said.
Knowing that cider was booming in the United States and Britain, Chapman saw an opportunity to create something a bit different for the local market. The move is paying off - Redwoods Cellars picked up awards at three competitions this month.
At the beginning of August, Old Mout Boysencider, Feijoa and Cider and its more potent, Australian-only, 8 per cent-alcohol version won silver medals at the Indy International Wine Competition in America, out of 3000 commercial entries.
Old Mout Cider also won three gold, four silver and two bronze medals at this year's Fruit Wine and Cider Makers of New Zealand awards, as well as four silver medals and one bronze at the Brew NZ Awards.
Chapman said there was plenty of competition in the cider market "but in supermarkets we're the only nationwide cider brand that isn't made by a brewery".
The competition from brewers was helpful because they were investing in cider and helping to develop the market.
"But we make cider for cider-lovers, who really appreciate the difference," he said.
Remaining true to their niche while being a big enough brand to service demand was a fine balance, Chapman said.
"Distribution is really, really hard in New Zealand and once you have got distribution, you have to produce and deliver in a timely manner to stay professional." Chapman said the awards were validation for the firm.
"It proves the path we went down was correct ... it's gratifying to have the work we have put into the taste recognised."
Being able to put gold stickers on the bottles would also give consumers more confidence, he said.
He expected Kiwis' taste for cider would continue to grow.
New Zealanders drink 600ml of cider a person a year.
Chapman expected that to rise to 2L a person by 2014.
In Britain, consumers drink more than 15L each.
The company is also expanding into Australia.