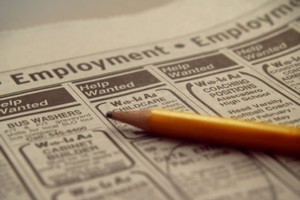 Australia's unemployment rate rose unexpectedly in July to its highest level since last November.
And an economist is predicting it could continue to rise.
Last month's unemployment rate rose to 5.1 per cent, from 4.9 per cent in June, the Australian Bureau of Statistics said.
Total employment was steady at 11.45 million in the month.
Macquarie Research economist Ben Dinte said the figures did not indicate a serious deterioration in employment market conditions.
"But it is consistent with what we've been seeing in the business surveys in terms of business confidence, hiring intentions, and also in terms of job ads," he said.
"We expect the unemployment rate to gradually tick higher, not racing up towards 6 per cent, but we do see a gradual increase rather than a decline."
Dinte says the Reserve Bank of Australia will closely monitor the unemployment rate.
It has kept the cash rate at 4.75 per cent since November, and there has been speculation from economists and the money market that it might cut the rate.
Reasons for a possible rate cut include weak world financial markets and softness in non-mining parts of the Australian economy.
"The increase in the month won't be too alarming for [the RBA] yet," Dinte said.
But further increases in the unemployment rate would be an indicator of a possible rate cut.
The Australian dollar dropped almost one US cent after the jobs data was released.
- AAP