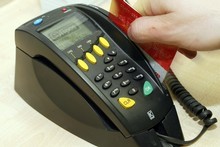 Electronic card transactions last month pointed to continued recovery in retail spending, but economists said turmoil in financial markets imparted a "that was then, this is now" quality to the data.
Retail purchases charged to debit, credit or charge cards rose 0.4 per cent, on top of a 1.1 per cent increase in June.
Excluding petrol stations and caryards the increase was 0.5 per cent, on top of a 2.1 per cent rise in June.
Fuel sales were down 1.4 per cent, the third monthly decline in a row.
"While this in part may be related to drivers reacting to high prices, we believe it is more likely to be a reflection of the recent drop in retail petrol prices," Goldman Sachs economist Philip Borkin said.
Apart from the automotive sector, the rise in sales was across the board, albeit slower than in June. The hospitality sector continued to outperform, gaining 1.5 per cent on June, seasonally adjusted.
ASB economist Christina Leung said data indicated a recovery in underlying demand for labour and in housing market activity, which would underpin a continued improvement in consumer confidence.
"However, the increasing turmoil in global financial markets in recent weeks adds a large degree of uncertainty into the growth outlook."
Deutsche Bank chief economist Darren Gibbs said developments in the global economy and financial markets increased the likelihood of a rerun of the patchy recovery seen last year, rather than the accelerating growth most commentators had had in mind.
Consumer and business confidence would be hit and exporters were likely to face a less positive trading-partner environment and weaker commodity prices.
"It remains to be seen just how significantly the outlook has changed, with the range of possibilities spanning from a repeat of last year's soft patch to a fully fledged global recession - although, provided that financial markets do not become dysfunctional, it would be very unlikely to be as deep as that seen during the global financial crisis."
By Brian Fallow

Email

Brian