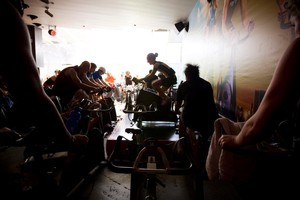 The Les Mills fitness business has distanced itself from the Commerce Commission's gymnasium probe.
Reece Zondag, Les Mills' chief executive, said he knew about the agency's concerns that many gyms were breaking consumer credit law when customers paid for membership by instalments. But his chain was not an offender.
"As I understand it, 90 per cent of the Consumer Credit Contract Act regards the disclosure of any interest paid on contracts, that is, you pay a different price for a payment option compared to a paid-in-full option.
"In this regard we are totally compliant. The remaining 10 per cent of the act relates to fairness of fees - late payment fees, cancellation fees, etc. The commission has total control over what is regarded as fair and reasonable. We believe our fees are fair and we are absolutely transparent at time of sale and follow up with a plain English explanation of obligations," Zondag said.
The commission investigated membership contracts at 13 randomly chosen gyms around the country after customers complained about how difficult and expensive it was to cancel memberships.
The commission found that all except one of those contracts failed to advise customers of the full cost of membership.