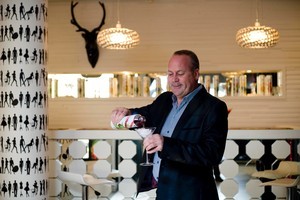 Spirit and liqueur exports have increased dramatically in the past year as boutique drinks companies target foreign markets, an industry group says.
Statistics NZ figures show export receipts for such products increased 28 per cent, from $41 million to $52 million, in the year to June 2011. Volumes shipped rose 32 per cent to 1.8 million litres during the same period.
Distilled Spirits Association of New Zealand chief executive Thomas Chin said the strongest performing export catagories were liqueurs, ready to drink beverages and vodkas.
"Combined into the liqueurs [category] is a raft of boutique small-scale producers of largely fruit based brandies - small operators with small niches," Chin said.
One of the companies feeding growth in the sector is Auckland-based VnC Cocktails.
Managing director Shane McKillen, a founding shareholder of 42 Below vodka, which was bought by Bacardi in 2006 for $138 million, said a gap in the market prompted him to establish the ready-to-serve cocktail company in 2007.
The cocktails - natural fruit combined with vodka or tequila - are now sold in 30 countries, including New Zealand.
The drinks are manufactured in Tauranga at the city's former Pinto juice plant, which VnC bought in 2009 and spent $800,000 upgrading.
McKillen, who represented 42 Below in the United States before the Bacardi sale, said he used distribution networks from his days with the vodka firm and started exporting VnC products around the globe.
China, the United States and Britain were VnC's key markets, he said.
The company, which has sales offices in the US, UK, mainland China and Hong Kong, has an arrangement with Australian supermarket giant Woolworths to sell its products through its liquor outlets.
McKillen said the company exported 120,000 cases of its products in the year to March, with a total value of about $10 million.
Ulf Fuhrer, founder of Kiwi-made German schnapps brand Zumwohl, said his product had seen a 250 per cent increase in sales in the past year and would begin distribution through its first Australian distributor next week.
"We're currently researching the best way to enter China," he said, "working out when the right time is."