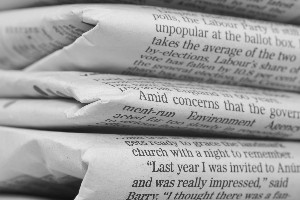 Top investors in Trinity Mirror, which publishes the Sunday Mirror, Daily Mirror and the People, want to know more from its chief executive, Sly Bailey, about phone hacking allegations made last week by a former employee.
Big shareholders, including Standard Life and Aviva, are understood to be making their views known to Trinity's chairman, Sir Ian Gibson, after Bailey launched an inquiry last week into its entire national and regional editorial operations.
The review does not specifically cover hacking, but a company spokesman said: "We can confirm that we're conducting a review of editorial controls and procedures."
On Saturday, the controversy over practices at Trinity intensified after allegations were made on the Guido Fawkes website that money had been paid to a blagger for illegally obtained information while Piers Morgan was editor between 2001 and 2002.
Guido also claims that invoices, totalling £442,000 ($826,000), were sent to the Mirror group over a six-year period for services provided by the blagger. The news will put Bailey under more pressure to explain whether phone-hacking, and other practices, were carried out by her newspaper.
Investors are already nervous about the group. Schroder Investment Management, Trinity Mirror's biggest investor, recently sold 4.5 million shares, reducing its stake to 15.6 per cent.
Shares in Trinity, which had gained from the recent elimination of its main Sunday newspaper competitor, News Corp's News of the World, fell almost 10 per cent to 44p on the hacking allegations last week.
Bradley Mitchell, investment manager at Royal London, one of the top four shareholders with 5.3 per cent, said he was waiting for the results of the inquiry before forming a view on the investigation.
Sir Ian faces embarrassment if the group's inquiry finds evidence of hacking. Morrisons, the supermarket group that he also heads, was one of the first companies to withdraw advertising from the News of the World because of hacking. Trinity had distanced itself from the News of the World's practices and has benefited considerably from the paper's closure. Circulation of the Sunday Mirror and the People rose by more than 60 per cent after the rival closed and they are fighting for its share of its advertising revenue.
Last week's allegations of phone hacking at Trinity Mirror came from James Hipwell, who was one of the Daily Mirror's financial reporters between 1998 and 2000 and who was later jailed for dealing in shares he tipped. The Daily Mirror editor at the time was Piers Morgan, now a television show host, who denies the allegations strongly.
The Trinity review is due to go before the board in September. The firm's shares have fallen more than 90 per cent over the past five years.
- INDEPENDENT