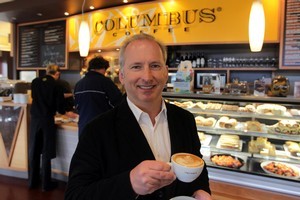 An accountant is pushing for a government subsidy to help small businesses get off the ground.
Paul Kane, partner at Auckland accounting firm Grant Thornton, says the lack of support for small and medium enterprises (SMEs) should be an election issue.
He points to Britain's Enterprise Finance Guarantee (EFG) scheme as a system New Zealand could emulate.
It lends money to SMEs unable to obtain a normal loan because of a lack of equity. "Lots of small businesses are people starting out. They've bought the family home, are heavily in debt and struggling to take on more debt."
The only option was to get a loan secured against property but many didn't have that option and there needed to be another method, he said.
Graeme Tait, managing director of cafe franchise Columbus Coffee, welcomed the idea of a government scheme but said capital needed to be matched with competency. "Up to 75 per cent of business owners have the capital but might not be naturally competent.
We need to develop the potential of people with competencies and a proven track record."
Tait spoke of an employee who wanted to own his own business but wasn't able to.
"His access to capital is limited, he doesn't fit in with a traditional bank's lending criteria but his competency for operating a business has been demonstrated a number of times. If he had the chance he'd be a successful businessman."
He welcomed more access to finance from a variety of sources. The British scheme gives lenders a partial guarantee. Loans are repayable over terms between three months and 10 years. A premium of 2 per cent a year is paid to the government on top of the regular capital and interest payments to the lender.
Kane said the borrower remained fully liable in the event of default. "Hopefully, if the government can be coerced into providing such a scheme ... then the SME sector can play an even more important part in the recovery and growth of the New Zealand economy."
Franchise Association executive director Graham Billings said access to finance was a big issue for his members who were unable to expand their systems because potential franchisees didn't have the equity to satisfy requirements for banks' lending criteria. "The situation is stifling growth," Billings said.
Westpac national franchise manager Daniel Cloete said funding sources for start-up franchisees had vanished in the past two years because of stagnant property prices.
"I often find well-run systems in business but the ideal franchisee might not have enough money to go into it ... It's a loss of opportunity."
Cloete said if the scheme were designed well enough it would not need to be a cost to taxpayers.
"There'd definitely be benefits from a small business growth subsidy. Other countries do it for increased revenue, increased tax and increased job creation. Successful businesses will make a difference to growth."
Consultant Zac de Silva, who works with SMEs, said a scheme such as the EFG could be seen as taking student loans to the next level. "The reality is the Government has topped up finance companies and bailed out several companies who would have otherwise gone under. It would seem a great idea to put more money into businesses that have potential but just need that extra help to borrow funds."
Rules could be put in place to ensure the guarantee was given only to true business-changing opportunities, he said.
"You would want the payback to be more stringent than student loans."