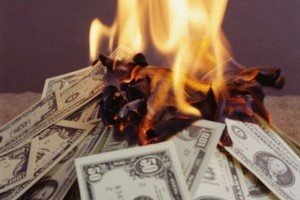 Auckland-based businessman Graeme Hart tops the 2011 National Business Review Rich List which welcomes some other quiet achievers, such as the Fulton and Hogan families, Datacom chairman John Holdsworth and Mainfreight co-founder Neil Graham.
Prime Minister John Key entered the list, which has a $50 million threshold, last year and was included again this year at 55th equal.
Hart's $6.5 billion fortune made from restructuring and trading businesses helps him retain top spot ahead of Waikato-raised investor Richard Chandler on $4 billion.
The Todd family are third with $2.7b, and farm investor Eamon Cleary fourth with $2b.
Lynette Erceg, widow of the liquor baron Michael Erceg, is fifth equal with Christopher Chandler at $1.5b a piece. This group of six are the only billionaires.
Seventh equal are Michael Friedlander, Owen Glenn and Stephen Jennings, with Glenn returning to the list as a result of increased activity in New Zealand.
The Goodman family are seventh with $850m, former Lion Nathan owner Sir Douglas Myers is eighth with $800m and investment bankers Sir Michael Fay, David Richwhite and the Spencer family complete the top 10.
The new entrants include the Fulton family ($295m), the Hogan family ($180m), Mr Holdsworth ($150m), Les Mills International boss Phillip Mills and his wife Dr Jackie Mills ($90m) and Mainfreight's Mr Graham ($65m).
Christchurch-based construction company Fulton Hogan employees more than 5500 people and is a highly respected company.
Holdsworth is chairman and majority owner of Datacom, New Zealand's largest locally-owned IT services company. He was recognised in the New Year honours as an officer of the New Zealand Order of Merit for his services to business and the community.
NBR news editor Ellen Read said that Mr Holdsworth was typical of many of the men and women who contributed significantly to charity, through sponsorship and ongoing financial support.
"John Holdworth's professional and personal dedication to social and community responsibility and his work with IHC New Zealand and Special Olympics New Zealand are as noteworthy as his business acumen and financial portfolio,'' she said.
This week Mainfreight chairman Bruce Plested paid tribute to Graham as he regretfully accepted his resignation as a director for reasons of ill-health.
"Neil has been my partner for the whole time Mainfreight has existed,'' said Plested.
"Neil's contribution to Mainfreight has been huge, particularly in the gaining and keeping of some of the biggest business customers in New Zealand.
"Neil will always remain a part of Mainfreight and we know that he will use all his strength to deal with his present health problems''.
Filmmaker Peter Jackson is 12th, TradeMe founder Sam Morgan 21st and Lloyd Morrison 46th on the list.
The total wealth of those on the list increased to $45.2b, up from the $38.2b in 2010.
The top 10 are:
1 Graeme Hart $6.5b
2 Richard Chandler $4b
3 Todd Family $2.7b
4 Eamon Cleary $2b
5 Lynette Erceg $1.5b
5 Christopher Chandler $1.5b
6 Michael Friedlander $900m
6 Owen Glenn $900m
6 Stephen Jennings $900m
7 Goodman Family $850m
8 Sir Douglas Myers $800m
9 Sir Michael Fay $725m
9 David Richwhite $725m
10 Spencer family $650m
- NZPA