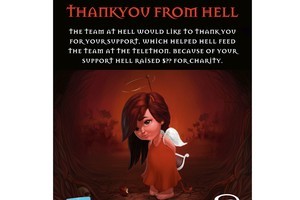 Hell pizza refused to pay $10,000 the company had pledged to Telethon - after the company's boss asked workmates for advice about how they could avoid paying the "dorks".
Warren Powell initially agreed that Hell would pay the sum to the KidsCan charity in exchange for "exposure" at the Viaduct headquarters of the Big Night In Telethon in 2009.
Suppliers including Goodman Fielder and Red Bull donated boxes of supplies to the company and Hell staff were asked to volunteer their time for the event.
But after seeing reports that some of the money raised was failing to reach needy children, Powell reneged on the deal, says Julie Helson, chief executive of KidsCan.
Helson said Hell Pizza used negative reports about the charity as an excuse to not pay what it owed.
"He reneged on it and they just didn't pay up," she said. "We got nothing.
"Powell was so rude to us, he was filthy, really derogatory."
The company set up a Hell takeaway van in the Viaduct for the 24-hour Telethon.
In the lead-up to the event, Powell wrote to organisers: "Yes, we will give ALL proceeds from the van to Telethon".
"Yes, we will cover the cost of making the pizza.
"Yes you will see me there, I will be making pizza (best dam [sic] pizza maker in the country)."
But in an email dated August 13, several days after the 24-hour fundraiser, Powell changed his tune.
He wrote to colleagues: "So how does this work? We gave away pizza by the dozen to these dorks and raised good [sic] knows how much; now am I expected to give them a chq in return for nothing?
"What do they have in writing and from whom? From below it looks like they have a verbal but that is all."
Even after KidsCan produced an audit showing that all the money was reaching children in poverty, Hell Pizza did not pay the money.
Helson said the charity chose not to pursue a civil action through the courts because that would have cost more than they hoped to get.
"We're in the business of helping kids." Helson said $10,000 would support 56 children for a year, buying them school meals, shoes, socks, a raincoat and a beanie.
Powell could not be reached for comment.