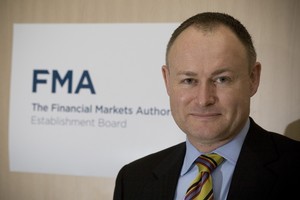 NZF Group's deposit-taking unit is at risk of default next week if it can't find new funding after the financial markets watchdog ordered it to withdraw a prospectus, Standard & Poor's says.
Ratings agency Standard & Poor's cut NZF Money's credit rating to CC from CCC- and has it on CreditWatch Negative, giving it a 50-50 chance of further downgrades.
"The company will likely default on its debt obligations next week" unless it attracts new funding, according to credit analyst Nico De Lange.
"The ratings are likely to remain at 'CC' long-term and 'C' short-term, and stay on CreditWatch with negative implications, even if NZF successfully raises sufficient funds to meet its obligations over the next few weeks," De Lange said in a statement.
NZF Money had planned to raise as much as $350 million by offering debentures to the public.
Yesterday the firm withdrew the prospectus. At first it blamed the move on a borrower delaying settlement of a $3.5 million contract though the Financial Markets Authority later said in a statement that it was unhappy over disclosure of asset quality and liquidity.
Last month, NZF said it was set to give up control of its profitable home lending unit to an unnamed Australian private company which would inject a "significant amount of cash" into the deposit-taking NZF Money unit.
The firm reported a loss of $4.8 million for the 12 months ended June 30, as it wrote down the value of bad debts and impaired loans in its property finance arm.
NZF came under fire earlier this year when it elected not to pay cash to investors in its $20 million of NZDX-listed capital notes, instead giving them the option to either roll over the debt into a bond paying a lower interest rate or convert their investment into equity.
About 90 per cent of the notes were rolled over into new bonds, and traded on July 6 at about 34.8 cents in the dollar.
The shares were unchanged at 3.5 cents in trading yesterday, and have slumped almost 77 per cent this year.