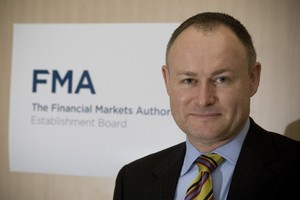 NZF Money Limited (NZF) has withdrawn its 2010 debt prospectus from the market following an investigation by the Financial Markets Authority (FMA).
FMA chief exeuctive Sean Hughes said yesterday an inspection of the documents and records of NZF, a subsidiary of NZX-listed NZF Group, revealed "matters of concern" regarding NZF's disclosures of asset quality and liquidity.
After talks talks NZF and the FMA, NZF agreed on July 18 to withdraw its prospectus and cease issuing secured deposits under its current offer documents.
Hughes said the FMA's investigation was enabled by new powers of notification and inspection conferred by the Securities and FMA Acts. He said the FMA's investigation is ongoing and FMA will take further action where necessary.
Shares in NZF Group last traded at 3.5c, near the bottom of its 2c to 20c range over the last 52 weeks.
- Jamie Gray