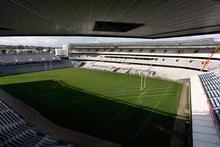 Ticket sales for the Rugby World Cup have soared past one million, but the boss of world rugby says he is disappointed some New Zealanders are price gouging.
International Rugby Board chief Mike Miller warns that if visitors to the country for the cup feel they have been taken advantage of, they will not come back.
Mr Miller, who is visiting from Dublin, says this will almost certainly be the last time NZ hosts the World Cup in a lifetime.
Concern has been raised that some accommodation and hospitality operators are looking to make the most of the estimated 85,000 overseas visitors expected during the cup without looking at the bigger picture.
Asked yesterday whether the IRB shared that concern and had looked into the claims, Mr Miller said: "Yes and yes.
"There are certainly some people who are taking advantage. You expect there to be a premium to pay around a big event like this, and for the most part people have been pretty good."
Mr Miller said the big hotel chains were largely exempt from price gouging claims.
"They understand that a lot of people are coming to New Zealand for the first time. If they have a great time and feel they were getting decent value, they'll come back again. If they don't, they won't.
"But some of the smaller operators are going, 'Well, this is our opportunity. We're going to take advantage here.' There's no legislation. You can't stop them. The trade organisation really doesn't have any sanctions against them except trying to get them to see it's not in their interests or the country's.
"For the most part things are fine, but there are some people taking advantage and it's very disappointing."
The Government and the Hotels Association had worked hard to stop it, but even they couldn't in some cases. "It's a shame."
Hospitality Association chief Bruce Robertson said he believed the issue of price gouging had been blown out of proportion.
"It's happening in a few isolated cases," he said. "There are still beds available, apart from on a very few number of days ... and people who are price gouging to a significant degree are going to be left with empty beds."
Mr Robertson said the level of demand that could lead to premium prices would be found only in Auckland and Wellington from the quarter-final stages onwards.
Mr Miller said ticket sales were looking good, and especially pleasing in France.
Tournament director Kit McConnell said the estimate of 85,000 overseas fans descending on New Zealand was holding firm even in the midst of a global recession.
"The average time they're looking to spend in New Zealand is 23 nights. In France [at the last World Cup], we had 350,000 people, but a lot of them came and then went back to London or on to Spain, Italy or wherever they came from," Mr McConnell said.
"It was very easy to come for a match, go home, come for another match. In New Zealand, they'll come for a match and stay for two or three more."
The only country causing real concern was Australia, where ticket sales are below estimates. Mr Miller did not believe reports of inflated hospitality prices were to blame.
"There may be one or two who have been put off when they're inquiring and are thinking, 'I'm not paying that', but I would have thought most people in Australia would know somebody here and would be able to find private accommodation," Mr Miller said.
He urged New Zealanders to abandon their last-minute culture and get tickets now to avoid disappointment. It would almost certainly be the last time the World Cup visits these shores in the foreseeable future, he said.
"All the money we make goes into the growing the game around the world," Mr Miller said. "The [IRB] council knew, when they took the decision to come here, that there would be less money available for the world game in the next four-year cycle. We'll have 30 per cent less money to distribute around our 117 members than we had from France [after 2007].
"That's a massive hit. We came here for rugby reasons rather than financial reasons. I think it was the right decision ... but I think people would be reluctant to come back to a small market in a short space of time.
"As the game continues to grow there's lots of other people who can host and who want to host. We're going to Japan in 2019, Italy is a growing rugby market and we'd expect them to host in the future, so it's a combination of others who you'd say it's their turn to host Rugby World Cup, and the size of the market here."
He even cast doubt on NZ hosting a pool when the tournament next went to Australia, saying that after years of shared events, the IRB's preference now was to have the cup hosted by one country.
- additional reporting: Nicholas Jones
By Dylan Cleaver

Email

Dylan