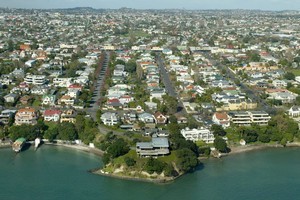 More first home buyers appear to be entering into the property market.
A new BNZ-REINZ residential market survey has been released publicly for the first time, suggesting a sizeable lift in buyer interest in the last month.
It also suggests a sharp turnaround in the number of agents who now believe prices are rising.
BNZ Chief Economist Tony Alexander says 30 per cent of agents report increased interest from new home seekers.
"I think for a lot of the first home buyers it's an expectation that the next change in interest rates is more likely to be upward rather than downward, therefore a good time to buy from an interest rate affordability point of view."
Meanwhile the survey also shows that relationship breakdowns remain one of the top reasons Kiwis sell their properties.
Mr Alexander says about 19 per cent sell because the need the money, with a relationship breakdown the next main factor at 16.7 per cent.
"There's an interesting list of reasons there about why vendors want to move on, either trading up or trading down, or the breakdown of relationships in particular consistently comes through as a relatively strong reason for moving on with your life, wanting to sell the house."
- Newstalk ZB