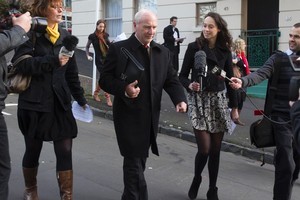 The judge presiding over a case involving finance company boss Rod Petricevic says he will ban cameras from inside court if there is a repeat of the "media scrum" which followed yesterday's proceedings.
Dozens of media were waiting outside both exits of the High Court at Auckland after the former Bridgecorp boss lost his bid to have fraud charges against him thrown out yesterday.
Media pursued Petricevic and his lawyer Charles Cato down the road and continued to ask them questions, despite being told repeatedly that the pair did not wish to comment.
After seeing the media scrum on television last night, Justice Geoffrey Venning said if there was a repeat of such attempts to interview Petricevic, the permission to have a camera inside court would be revoked.
"One of the principal reasons for permitting in-court television coverage of criminal trials was to avoid a 'media scrum' situation involving the accused outside the court and around the court precincts.
That seems to have been lost sight of by aspects of the media," Justice Venning said.
"An accused person, who is compelled by law to attend court, should be able to attend without facing a barrage of media questions while arriving or leaving court."
TV3 head of news and current affairs Mark Jennings said he could see where Justice Venning was coming from.
Although reporters were asking legitimate questions, Petricevic clearly was not going to answer them yet he was still pursued.
"I'm a little bit surprised, but I think he has a point," he told Radio New Zealand.
"I'm a big fan of cameras in courts, I think it is a really key part of our open justice system and I don't want to see judges push back on that."
Petricevic and four other former Bridgecorp executives -- Rob Roest, Peter Steigrad, Gary Urwin and Bruce Davidson -- are facing a number of criminal charges after the finance company collapsed in 2007, owing thousands of investors almost $460 million.
- NZPA