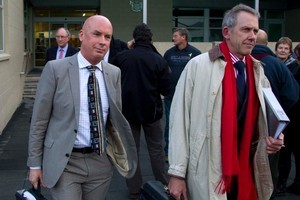 The gloves have come off for the first time in the Pike River coal mine disaster commission of inquiry, with Solid Energy chief executive Don Elder taking "great offence" at suggestions his evidence was designed to lower the mine's value prior to sale.
Solid Energy is a declared bidder for the assets of the Pike River mine, and Elder spent much of his evidence on the first day of hearings yesterday on the special challenges of mining West Coast coal, questioning the quality of the coking coal at Pike River and arguing that a single mine was commercially risky compared with holding a portfolio of mining assets.
In cross-examination this morning, legal counsel for the Pike River directors, Stacey Shortall, engaged in tense exchanges with Elder over his motivation for giving the evidence.
"Solid Energy has a vested interest in Pike River's assets," she said. "It would be in the company's best interests for the assets' price to be as low as possible?"
Elder replied: "Yes, but I take offence at the implication of the question. Twenty-nine people are dead. I take great offence that the reason I am here is that I'm talking down the value of the assets. That's already been done (by Pike River itself). I'm very offended."
He declined to comment on the sale process being undertaken by Pike River receivers PricewaterhouseCoopers at present, saying only that Solid Energy was a "participant" in the process.
However, the issues raised by the Pike legal team echo those raised by PwC in a March 20 affidavit filed in the High Court alleging that Solid Energy was playing "a clear commercial game" to reduce the value of the Pike River mine assets.
The accusation related largely to the acquisition by Solid Energy of leases over land at Ikamatua where Pike had built coal-handling facilities which the receivers regard as integral to the viability of a future mining operation.
"Its actions appear to be an attempt to place Solid Energy in a better commercial position than other prospective purchasers of the mine by taking over a key infrastructure asset, making the sale process more complex and uncertain and adding a value-destructive element," the receivers alleged in the affidavit.
Their allegations have yet to be heard in open court.
In his evidence to the commission of inquiry yesterday, Elder said the Pike mine would have been "marginal" as a commercial concern, even at currently highprevailing prices for high grade coking coal used in steel-making, in part because not all the coal at Pike was of such high quality. If run through Solid's business case process, it would have rated as a "high commercial risk," Elder said.
Elder also defended the low price Solid Energy achieved for the one export shipment of coal that Pike River had available immediately after the disaster last year. The Pike receivers' affidavit alleged that Solid Energy under-paid Pike on that sale, but Elder said yesterday part of the problem was that the fuel was softer than the highest grade 'hard' coking coal.
West Coast coal-mining operations needed to be part of a portfolio of mining assets so that difficulties at one mine could be offset by cashflow from others and risks of failure or delay mitigated, Elder said.
He cited Solid's protracted problems at its underground West Coast mine Spring Creek through the 2000's, similar to Pike River geologically, as evidence of how long and costly it could be to get a mining operation working well.
Pike did not have that option and had walked away from an initial desire to collaborate on coal production with Solid Energy.
The inquiry also heard yesterday how the Pike River mine development costs ballooned almost ten-fold from an initial estimate of $29.3 million in May 1995 to $207 million in 2007.
Elder told the commission Solid was so uncertain of Pike River's success that it only agreed to commit space on its trans-alpine rail network to Lyttelton on a take-or-pay basis, so that it would earn fees if Pike was late to market.