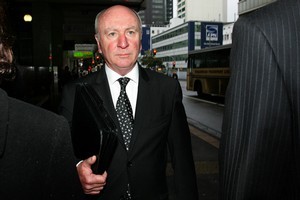 The Crown Prosecutor in the Bridgecorp case has labelled an application to have the trial adjourned as a 'fishing' exercise.
Former Bridgecorp boss Rod Petricevic is facing a number of criminal charges relating to when he was managing director of the finance company which collapsed in 2007 owing $459 million to investors.
The High Court last month turned down an appeal by Petricevic for legal aid.
His lawyer Charles Cato has threatened to walk away from the High Court case unless his client gets legal aid.
Cato told the High Court at Auckland there is simply no money in a family trust to pay legal fees and without legal aid his client won't get a fair trial.
He wants a permanent stay of criminal proceedings because he can't afford a lawyer and therefore won't get a fair trial.
But Crown Prosecutor Brian Dickey called the application for the adjournment a fishing exercise as they were seeking 'uncertain' documents.
The case is due back in the High Court at Auckland tomorrow afternoon.
Petricevic has been fighting Serious Fraud Office charges following the collapse of Bridgecorp in 2007.
That trial has been set down for March next year.
Separately Petricevic, Roest, former Bridgecorp chairman Bruce Davidson, and two other ex-directors Gary Urwin and Peter Steigrad, also face Securities Commission (now the Financial Markets Authority) allegations they made made untrue statements in the investment statements and registered prospectuses of Bridgecorp and Bridgecorp Investments.
The legal aid review panel agency declined Petricevic's legal aid application because despite being bankrupt, he is a trustee of the R.M. Petricevic Trust, which has considerable assets, and his wife Mary and adult sons are discretionary beneficiaries.
A financial report for the year ending March 31, 2009, revealed the trust had a total equity of $5.2 million, owning six rental properties in Auckland valued at more than $1 million with mortgage liabilities of $535,000.
Bridgecorp owed 14,500 investors $460 million when it collapsed.
- NZ HERALD ONLINE / NEWSTALK ZB