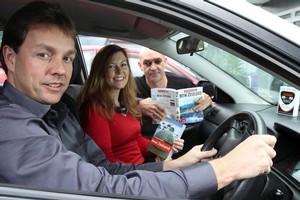 Overseas visitors are ditching brochures and tuning into radio as their preferred travel guide to New Zealand.
Albany company Tourism Radio launched its GPS-powered system during the 2008 recession and has witnessed growth of 1000 per cent.
The small piece of hardware offers self-drive tourists information on destinations in real time while they make their way around New Zealand.
It fits on windscreens, runs through a cigarette lighter and is playable on an open FM frequency. When a point of interest or ad is triggered, middle of the road music is interrupted.
Managing director Hayden Braddock said the original idea was to charge people $10 a day but a change in business model saw revenue coming from advertisers and the company offering the device to distributors for free.
"It created a listener base. We had no interest in advertising to begin with but we switched the idea on its head."
Tourism Radio now has 22 partners, including several of New Zealand's major rental car and motorhome companies such as Kea, Maui and Apollo.
The company was founded by Braddock's brother-in-law, Mark Allewell, in South Africa, before a German investor came on board in 2008 and started a branch in New Zealand.
Braddock said the company had been careful not to bombard travellers with too much advertising and limited it to 15 per cent of content. Tourist attractions, accommodation and restaurants are reviewed to maintain a high standard.
Researchers and travel writers spent six months travelling the country identifying geography, history and scenic highlights. The meaning of "hey cuz" is explained along with the pronunciation of Whangarei.
"It gives tourists the feeling of having know-all locals in the car with them, pointing out must-see spots and chipping in every now and again with local trivia."
More than 250,000 people have used the system since its inception, with 40 to 60-year-old couples from UK, Australia, Western Europe and North America the heaviest users. The company employs 10 people - some of whom send content remotely, with production in Christchurch.
Australian woman Carole Plant used Tourism Radio while visiting with her husband, Don, for their 40th wedding anniversary.
"It told us to visit so many places that we wouldn't have known existed: lookouts, waterfalls - even how far to walk from carparks."
She loved that Maori culture was embraced and said the kauri museum near Dargaville was a highlight.
Managing director of Christchurch company Balloon Adventures Up Up and Away, Hal Tapley, said Tourism Radio had been responsible for a 10 per cent increase in clients.
"It offers an opportunity to directly target a market we want access to. When people arrive at Christchurch Airport and drive through a major intersection, the GPS triggers an ad inviting people to book."