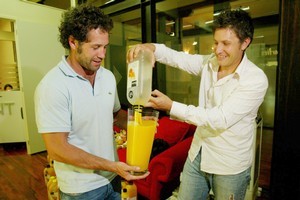 Lack of expansion capital can hobble Kiwi business Glasses were, quite rightly, raised this week to celebrate the riches soon to come the way of the founders of the Charlie's Group.
Stefan Lepionka, Marc Ellis and Simon Neal have accepted a bid from Japanese brewer Asahi that values their juice company at $129.3 million.
It is an extraordinary achievement by the trio who set up Charlie's from scratch 12 years ago and floated it on the stock exchange in 2005. Amid all the celebration, however, there had to be a tinge of regret.
Charlie's is an all too typical New Zealand business story. Inspired and driven by its founders, it was just finding its feet, and making strong inroads into Australia.
Now the fruits of that success, conceivably in markets even further afield, will go to a Japanese giant intent on breaking into the juice market.
The shame is that Charlie's - and companies such as 42Below before it - have not been able to progress to the next level under the stewardship of their owners. In part, this reflects offers that were simply too good to refuse.
But, too often, it has also pointed to the difficulty of raising capital for such expansion. Too much of people's savings in this country is being poured into unproductive investment, notably property.
The entrepreneurs behind enterprises such as Charlie's will, of course, search out new opportunities. They will not be lost to NZ Inc.
What has gone, however, is the harvest from a company offering an simple, unadulterated product that reflects the very image this country wants to project.