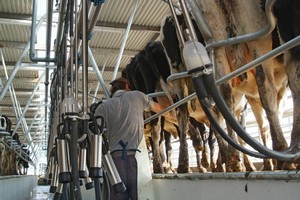 Takeover target NZ Farming Systems Uruguay's expectations for the coming financial year have swung from loss to profit.
In a company statement yesterday the independent directors noted that as a result of a higher assumed average milk price of US37c a litre, the draft budget forecasts net profit after tax of US$2.9 million ($3.6 million) for the 2011-12 year, against a business plan expectation for a US$1.9 million loss.
The draft budget forecast earnings before interest and tax for 2011-12 of US$8.9 million against the existing business plan's US$3.3 million.
The budget had not been formally approved and was due to be considered at a board meeting today.
The independent directors of the NZX-listed company in May recommended shareholders accept a 70c a share offer by Singapore based Olam International. Independent director Graeme Wong yesterday said the recommendation to shareholders was unchanged.
"Obviously there are some people who are standing out there saying, 'No we don't want to accept', and we are just making sure that they are fully informed as to what the situation is."
An independent adviser's report by Grant Samuel valued the company's shares in a range of 60c to 69c.
Olam last week said it had been approached by a minority shareholder looking to discuss an increase in the offer price.
"In this regard, Olam reaffirms its previous commitment that the offer price will not be increased," the company said. "Accordingly, Olam has declined to engage in any such discussions."
A substantial holding notice last week said Olam held 85.3 per cent of shares.
Shares in the company closed down 2c yesterday at 70.