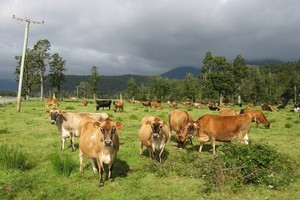 Singaporean commodities giant Olam International's bid to clinch 100 per cent ownership of New Zealand Farming Systems Uruguay appears to have stalled with less than a week to go before the acceptances deadline.
Olam remains short by a minimum 5.8 per cent acceptances.
Olam needs 90 per cent acceptances to allow it to compulsorily acquire the remaining 10 per cent of shareholders, but it has not updated the market since Thursday last week when it confirmed it had reached 84.2 per cent acceptances.
A block of shareholders, holding more than 10 per cent of the Uruguayan dairy farm company, have resisted selling until Olam upped its 70c-a-share offer, which Olam has said it will not raise.
Craigs Investment Partners broker Peter McIntyre said that with no disclosure notices issued in recent days, Olam might have gained only a small number of acceptances since last week.
"They [Olam] appear to be struggling and are not travelling well towards the 90 per cent threshold they need."
Olam extended its acceptances deadline from Tuesday last week to Wednesday next week, noting to shareholders they could be called on to support a large capital raising, in a range of US$110 million to US$115 million ($134.7 million-$140.8 million) required for more development.
Once Olam's $37.6 million takeover bid lapses, it could potentially come back to the market and make another offer to the 10 per cent of hold-out shareholders.
- Otago Daily Times