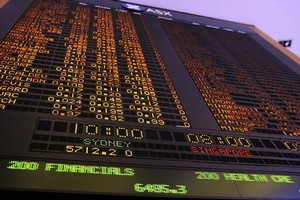 Australian investors have been given the power to force the re-election of an entire board if they think executives are being paid too much, and the New Zealand Shareholders' Association says it could push for the introduction of a similar law here.
From July 1, a "two strikes rule" will give Australian shareholders the power to vote on a motion to "spill" the board of directors if the firm's remuneration report receives a "no" vote from 25 per cent or more of its investors at two successive annual meetings.
Parliamentary Secretary to the Treasurer David Bradbury said that if a spill motion was supported by the majority of shareholders, the entire board would then face re-election.
"Executives who bring value to a company should be appropriately remunerated for their work, but these reforms ensure that those executives will be more accountable to shareholders for the level and composition of that remuneration."
Bradbury said the new legislation meant boards would also be required to declare their use of remuneration consultants and directors would be prohibited from taking part in votes on the salaries of key management personnel.
There has been debate in this country about the pay of NZX-50 chief executives, including Telecom's Paul Reynolds, who was paid $5.1 million last year, and Westpac NZ's George Frazis, who received a remuneration package worth $5.8 million.
New Zealand Shareholders' Association chairman John Hawkins said the organisation had conducted preliminary discussions on the "two strikes" rule and begun "formulating a view as to what we would like to see here".
"We are concerned with some executive remuneration that is out of kilter with company performance," he said. "We want to see proper remuneration reports and if directors don't take account of these concerns then we would certainly consider [pushing for] something like the Australian approach."
But Hawkins warned that the "two strikes" rule could be damaging.
"If a company got itself into a situation where the board has to stand down and offer itself for re-election and if for some reason the whole board was not re-elected, there's implications for the company in that," he said.
Anglo-Australian mining giant Rio Tinto might have undergone board spill votes had the law been in force when it faced serious opposition to its remuneration reports at annual meetings in 2010 and 2011, the Sydney Morning Herald reported.
Hawkins said many boards - here and around the world - had lost a sense of reality about executive pay.
"You've got people who are being paid hundreds or even thousands of times what the average worker is being paid," he said. "That is just something that creates resentment and adds nothing to the company."
The Business Herald's latest Executive Pay Survey found the chief executives of New Zealand's biggest listed firms and state-owned enterprises received an average pay rise of 14 per cent in the 2010 financial year.
For all New Zealanders, the average wage increase was just 1.7 per cent in the year to the December 2010 quarter, according to Statistics NZ figures.
Jarrod Moyle, director of remuneration advisers Moyle Consulting, said the gap between the powers and transparency available to Australian shareholders and those in this country was widening.
But Moyle did not think there was a high level of outrage among New Zealand shareholders over executive pay.
"There's a reason behind that - I don't think New Zealand executive remuneration is outrageous."
Commerce Minister Simon Power said the Government would watch with interest how the Australian approach worked in practice.
TWO STRIKES
* Passed in the Australian Senate on Monday night and takes effect on July 1.
* Gives the shareholders in ASX-listed companies the power to force an entire board of directors to be re-elected following two successive years of "no" votes from 25 per cent or more of investors on a firm's remuneration report.
* Boards will also be required to declare their use of remuneration consultants and directors will be prohibited from taking part in votes on the salaries of key management personnel.