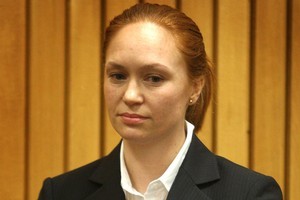 The Crown has yet to confirm all the charges it will lay against the woman dubbed New Zealand's runaway millionaire, Kara Hurring.
Hurring, along with her former boyfriend Leo Gao, were alleged to have stolen more than $6 million from Westpac and then fled to China in 2009, after the bank mistakenly allowed them a $10m overdraft.
Hurring was arrested on her return to New Zealand this year.
In a short discussion in Rotorua District Court this morning Crown prosecutor Fletcher Pilditch said an indictment had yet to be filed outlining the charges to be laid against Hurring.
Hurring already faces a raft of charges including money laundering and theft. Gao faces the same charges, but remains at large overseas.
Judge David McKegg set a further date of July 22 for pretrial matters to be discussed and a callover date of August 10.
Hurring's appearance was excused today and again next month. She remains on bail.
Counsel for Hurring, Bill Lawson, said she was anxious to have matters dealt with as quickly as possible.
- NZPA