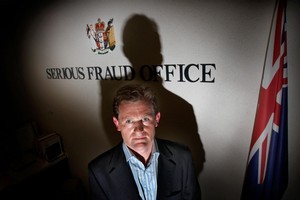 The Serious Fraud Office has closed its investigation into Mutual Finance and related lender Viaduct Capital, after finding insufficient evidence to lay charges.
SFO chief executive Adam Feeley said an initial investigation had found insufficient evidence of fraud to warrant the use of the office's full investigative powers.
"The allegations against Mutual Finance and its associated companies do not currently identify sufficient evidence of fraud.
"However, some information discovered has raised concerns which we believe are best considered by the Financial Markets Authority (FMA)."
Mutual Finance provided property finance, business finance and consumer finance to customers, but collapsed in July 2010 owing approximately 450 investors an estimated $17 million.
Viaduct Capital, was put into receivership two months earlier owing 110 depositors $7.8 million.
Feeley said that the SFO would consider reopening the investigation if further evidence came to light, and in the meantime it would give the FMA whatever assistance it could.
The SFO announced in December last year that it had launched an investigation into the dealings of Mutual and Viaduct after receiving information from the financier's receiver and the Ministry of Economic Development's national enforcement unit.
- Susie Nordqvist