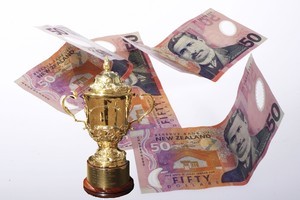 Visitors may find themselves forking out up to $1500 for one night in a hotel room during the Rugby World Cup, despite Auckland Tourism's warning that price-gouging could harm New Zealand's tourism reputation.
A Herald survey of hotels, motels and backpackers in Auckland found that all but six of the 91 that responded are increasing their prices for the cup.
The survey compared prices for last Saturday - June 18 - with September 24, the date of the All Blacks vs France match, and October 23, when the final will be played.
Of the 91 places that provided costs for either or both dates, 83 will charge more for September 24, and 57 are increasing their prices for the final.
Fifty-seven provided costs for both dates. Of those, 23 are raising prices for the France match and again for the final. They include the Mercure, which has a top rate of $1500.
Rachael Darcy, Auckland's major events manager, strongly encouraged accommodation providers to offer value for money during the tournament.
"Accommodation providers that indulge in price-gouging risk harming our reputation."
On average, prices for a standard two-person room on September 24 will be two and a half times the rate last Saturday.
During the finals weekend, they will average three times the usual price.
Hospitality Association chief Bruce Robertson said hotel rates during the World Cup were consistent with what customers would pay at other international events.
"New Zealanders are judging these prices through New Zealanders' eyes, rather than the eyes of our tourists."
He stressed that visitors wouldn't pay premium rates during their whole stay, only on the weekends of major matches.
"Hotels should be optimising their revenue - that's what they're in business to do," Mr Robertson said.
He said hotel rooms in Sydney during the 2000 Olympics cost more than $1000.
Many of Auckland's larger hotels did not want to reveal their rates during the cup, but the Langham did confirm a standard room will cost $1150 on the night of the final - about six times the price on Saturday.
Hotel Council executive officer Rachael Shadbolt said major events "cause real peaks in demand", adding that members had priced "carefully and appropriately".
But Motel Association chief executive Michael Baines said accommodation providers would have a better understanding of demand closer to the cup. "I think that a lot of it will depend on who's in the finals."
Some motels have greatly inflated their prices, however. Sai Motels in Greenlane is charging $1090 for a one-bedroom unit on October 23 - 16 times the usual $65 a night.
The manager said the room was the only one left, so he was told to put up the price.
Sai Motels had conducted its own survey of 16 local competitors before setting its World Cup prices. "We're charging less than them."
A recent London survey revealed hotels there are boosting prices for the 2012 Olympics, in most cases by a little over double. The Financial Times reported, however, that one four-star hotel had quoted £1100 ($2193) for a room normally costing £200.
HIKING THE PRICES
Average price (two people, one night)
Saturday:
* Motels and budget accom $105
* Hotels $155
September 24:
* Motels and budget accom $255
* Hotels $522
October 23 (cup final):
* Motels and budget accom $307
* Hotels $579