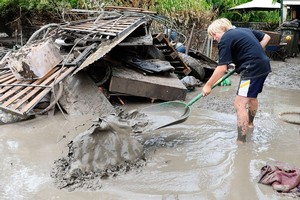 IAG has been hit hard by Australian floods but in NZ it says it could be benefiting from struggling rivals
The insurance market in disaster-ravaged Australasia is now ripe for expansion, says Insurance Australia Group, even though damage from Christchurch quakes is yet to be declared.
Floods and earthquakes have not deterred Mike Wilkins, managing director and chief executive, who told an international market strategy briefing this week of plans to grow premiums by 3-5 per cent in New Zealand but he said it was too early to gauge the financial fallout from Monday's Christchurch aftershocks.
IAG's full-year results are issued on August 25 and will tell more about the Christchurch situation. The New Zealand arm made A$17 million in the second half of 2009, A$68 million in the first half of 2010, A$63 million in the second half of 2010 but A$90 million in the first half of this year.
The insurer has been hit hard by Australian floods but in New Zealand it says it could be benefiting from struggling rivals - perhaps referring to Christchurch market leader AMI Insurance which sought Government help due to its exposure and lack of reinsurance.
Jacki Johnson, chief executive of IAG in New Zealand, told the same briefing Australasian disasters were pushing up insurance costs in a market with financially distressed competitors.
Wilkins said that before Monday, IAG was on track to meet updated insurance margin guidance of 8-10 per cent but that might now change.
"We'll advise the market as soon as we have a firm assessment of the likely outcome and any impact on our results for the financial year 2011."
Craig Dowling, IAG NZ corporate affairs head, said the firm's Standard & Poor's rating was an AA- stable credit rating, which means it has very strong claims-paying ability.
"If anything we are benefiting from a small flight to quality. In terms of market share, while we are the leading general insurer. In terms of home cover if anything we are underweighted in Christchurch compared with a couple of other insurers - particularly AMI which was always very strong in the Garden City.
"Because of IAG's size we are in a very strong position in terms of responding to the incidents in Christchurch. We have employed more people into our Christchurch operations, most based in a building structurally undamaged by the quakes and able to get up and running quickly.
"We are stepping up above and beyond normal practice, determined to be a positive contributor to the recovery process providing leadership and input at Government and agency level. The financial impact, particularly at group level, is limited due to reinsurance arrangements which have capped our exposure to the September and February events at $40 million each. We are regularly rated by Standard & Poor's, the world's foremost provider of independent credit ratings," Dowling said.
In Australia, IAG lodged a comprehensive submission to the Commission of Inquiry into the Queensland Floods.
Mutually owned AMI, New Zealand's second-largest insurer, is Government guaranteed if it buckles.
NZX-listed Tower Group's shares dropped this week but the company says it is well within its reinsurance limits.
Vero, rated A+, told Christchurch customers it was committed to rebuilding the city and has resources, however long that takes.
The Government was warned that if it did not bail out AMI, a contagion could spread through the insurance and banking sector and AMI's 50,000 Christchurch policyholders could be left out in the cold if the insurer failed
Treasury documents came out last month on the Government rescue of the struggling insurer, hit hardest by the Christchurch quake partly due to lack of reinsurance.
In April, the Government extended AMI a support package that Finance Minister Bill English acknowledged could top $1 billion and leave the Crown liable for up to $200 million a year in ongoing claims.
IAG
* Biggest NZ general insurer
* Owns NZI & State
* More than 1 million NZ customers
* Big NZ growth plans
* Rivals' failure is IAG's gain
* 2000 NZ employees
* 33 per cent NZ market share
* 2.6m written items
* HQ 1 Fanshawe St, Auckland
Source: IAG