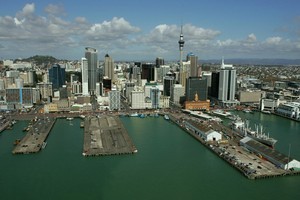 Almost 200 staff from the Auckland Council's economic development agency and New Zealand Trade and Enterprise are about to come together in a Super City economic development powerhouse on the waterfront.
Council-owned Auckland Tourism, Events and Economic Development Ltd (Ateed) will move its central office in August into the former Auckland Harbour Board building on Princes Wharf.
NZ Trade and Enterprise will move all 142 staff in its Auckland office, including parts of its head office, into the same building in January.
Building manager Stephen Sampson of Commercial Property Managers said the two agencies would occupy the top two floors which were added in a major refurbishment 18 months ago by owners St Laurence Properties, which went into receivership last month.
The floors were leased by financial services company ING but were never occupied because it was taken over by ANZ Bank.
NZTE general manager products and services Hans Frauenlob said his agency worked closely with local economic development agencies throughout the country and saw an opportunity to co-locate with what is now by far the biggest such agency, Ateed.
"The economic performance of Auckland is quite important to us nationally and we want to make sure we are working with them in a very collaborative way," he said.
Ateed will keep offices at Orewa, Albany, Henderson, Manukau and Pukekohe as well as at Princes Wharf.