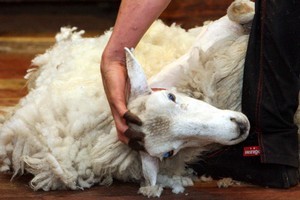 New Zealand's largest carpet manufacturer, Godfrey Hirst, which bought the assets of Feltex New Zealand out of receivership in 2007, says it will appeal an approval for the creation of a monopoly in the wool scouring sector.
The Commerce Commission on Friday approved plans by Cavalier Wool Holdings to buy up rival wool scours owned by Wool Services International (WSI).
"We are very concerned with the decision," said Godfrey Hirst general manager Tania Pauling. "We have instructed our lawyers to commence the appeal process to the High Court.
"We are struggling to see how a regulatory body can allow for a monopoly in a key New Zealand industry, which will have implications not only for direct users of New Zealand scouring but also for the woolgrowers, manufacturers and end users of products, which utilise New Zealand coarse wool."
Cavalier wants to relocate WSI's scouring plants from Kaputone, north of Christchurch, to Timaru and from Whakatu to Cavalier's nearby plant at Awatoto, between Napier and Hastings.
Cavalier would also mothball scour lines at its own Clive and Timaru plants and take over WSI's 50 per cent stake in the Lanolin Trading Company.
The purchase and rationalisation would leave Cavalier Wool as the nation's only remaining wool scourer.
Cavalier chief executive Nigel Hales told the commission the merger of the businesses "is part of the structural changes that the industry requires to gain efficiencies, continuous improvement and remain competitive with our international woolscourer competitors".
The Commerce Commission has a role as an anti-trust regulator, but chairman Mark Berry said though the acquisition would clearly reduce competition in scouring and might lead to some price rises, the Commerce Act allowed these losses to be outweighed by likely cost savings in the sector.
The rationalisation was likely to lead to lower production and administration costs, the freeing up of industrial sites, lower ongoing capital expenditure and improved wool handling.
Cavalier chief operating officer Colin McKenzie has said China's wool industry now represented half of the world's wool imports and dominated world scouring.
He said 20 per cent of NZ's greasy wool was scoured overseas with 80 per cent of Australian and most European greasy wool, so it made sense to retain scouring capability at home.
But the current supply chain for greasy wool from farm to wool scour was overly complex, wasteful and costly.
Rationalisation could increase productivity, and by setting up purpose-built "independent" greasy wool superstores adjacent to woolscours, the new business could improve efficiency - without owning or trading wool - to service existing wool brokers and private merchants.
The two biggest shareholders of WSI - Plum Duff and Woolpak Holdings, with a combined 64 per cent stake - are in receivership.
WSI chairman Derek Kirke said Cavalier had been asked to provide details of its proposed offer and until that was received WSI could not give any useful information to its shareholders.
Kirke said any proposal from Cavalier had to be assessed against any bids the receivers of Plum Duff and Woolpak Holdings got for the 64 per cent shareholding offered for sale.
- NZPA