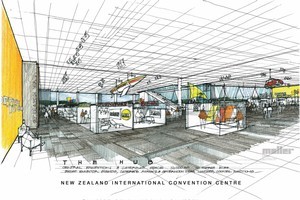 The Government is negotiating with SkyCity to build a large international convention centre in Auckland.
SkyCity CEO Nigel Morrison said that once completed and operational, the centre would create around 800 new jobs, "rejuvenate the surrounding precinct" and create new opportunities in business, retail and tourism.
"Auckland will now be in a position to attract major
international conferences and exhibitions that New Zealand currently
misses out on," Mr Morrison said.
Prime Minister John Key said the project would boost tourism, create jobs, and put New Zealand on the map as a business events destination.
He said an international-sized convention centre is essential for New Zealand to tap into the growing market of high value business visitors that we are currently missing out on.
Mr Key - also the Minister for Tourism - said the tourism industry and business sector have been calling for an international-sized centre for years.
It is estimated that the proposed centre will provide a $90 million annual boost to the economy through new spending by additional international visitors.
- NEWSTALK ZB, NZHERALD STAFF