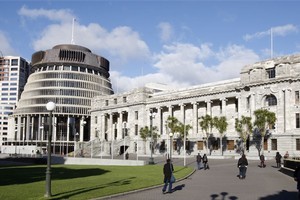 Core Crown expenses were $525 million or 0.9 per cent below forecast at $56.3 billion in the 10 months to the end of April.
Publishing the Government's financial statements for the 10-month period today, Treasury said most departments were continuing to report some under expenditure against their forecasts.
The families' tax credit was $61m lower than expected because April results did not follow the usual historical pattern.
The April to June period could be volatile and it was expected some of the variance would reverse in May and June.
The early childhood education programme had fewer child hours claimed than expected, with spending $40m less than anticipated. The difference was expected to stay until the end of the financial year, Treasury said.
The figures are compared against monthly forecast tracks based on the 2011 budget and fiscal update published last month.
Overall results for the period were close to forecast but there was a significant difference between the forecast and actual outturn for gross debt, which was $2.9b or 4.2 per cent higher than forecast at $71.6b, Treasury said.
Factors contributing to gross debt included considerable valuation movements as a result of higher than forecast exchange rates.
That caused derivative liabilities to be $824m greater than expected and also contributed to derivative asset values being significantly above forecast, which required increased collateral of $759m to hedge the risk.
The issuing of Treasury bills remained ahead of forecast by $751m due to stronger than anticipated demand.
As a result of the higher debt position, finance costs for the 10 months to April were $559m higher than in the same period last year.
The movements in gross debt were net debt neutral, Treasury said.
At April 30, net debt was 0.8 per cent below forecast at $41.5b or 21.3 percent of gross domestic product.
The operating balance deficit before gains and losses, at $10.9b, was 3.6 percent smaller than expected largely as a result of the lower than forecast expenses.
The deficit is forecast to grow by $5.8b in the next two months to $16.7b by June 30.
The growth in the deficit was largely a result of sharp increases in forecast expenses, most notably earthquake-related costs, the weathertight homes assistance package and costs associated with the emissions trading scheme, Treasury said.
There was some risk in both the timing and quantum of those expenses.
Core Crown revenue in the 10-month period was 0.2 percent below forecast at $46.4b, with Core Crown tax revenue also 0.2 percent lower at $42.3b.
- NZPA