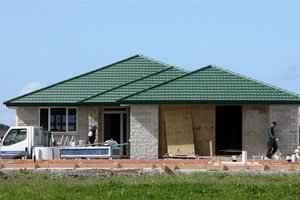 A fall in section prices has failed to revive the building sector, which is reporting low or non-existent home building across the majority of the country.
The latest First National residential property survey shows building activity as non-existent or at very low levels across 90 per cent of areas where respondents worked, while section prices were down across 95 per cent of the sample.
A total 46 First National offices were surveyed, though specific price falls were not recorded.
The figures echo the latest residential building consents, which hit their lowest level in almost 30 years in the year to March 2011.
Statistics NZ said 14,611 dwellings were built during that time, down on last year's 15,381 dwellings.
First National's general manager John Stewart said council red tape, a lack of finance and a lack of confidence appeared to be blocking section purchasers from building, and in some areas it was better value to buy an existing home.
However pressure would come on existing home prices, if building continued to languish, he said.
The few areas where lower prices had sparked interest were Richmond, Mangawhai, Te Awamutu, Wellington and Mid Canterbury.
Building in Central Otago was continuing on sections purchased several years ago.
Despite this, overall the property market was freeing up, Stewart said.
Sales for May were up 20 per cent on the same time last year and prices were stabilising.
Listings were down 8 per cent on the same time last year to 6384, mainly in Auckland, Christchurch and the Bay of Plenty.
"Economic commentaries indicating further value drops may be causing vendors to hold out of the market even when sales are cleaning out current listings," Stewart said.
- NZ HERALD ONLINE