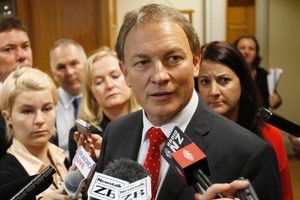 Labour leader Phil Goff says his party would not put government drug buying agency Pharmac on the block to gain a free trade deal with the United States.
There are fears the Trans Pacific Partnership (TPP) free trade agreement the Government is negotiating with the United States and other countries could weaken the drug-buying agency Pharmac. A group of 28 US senators has written to US President Barack Obama with concerns about intellectual property and drug-buying bodies. They sought better protection for US companies in trade talks.
The Government has not ruled out changes to Pharmac if that means getting a free trade deal.
But Mr Goff yesterday said Pharmac was "an absolute bottom line".
"We should not be trading Pharmac off for a trade agreement with the United States." Mr Goff did not believe the US had the negotiating strength to impose its will on New Zealand and weakening Pharmac was something only big pharmaceutical companies wanted.
"There's no philosophical justification for it, there's no requirement or precedent in terms of negotiating trade agreements." However, if there were changes to Pharmac under TPP, it would be difficult to undo the changes without unravelling the whole deal, he said.
Prime Minister John Key earlier this month said TPP negotiations were ongoing. He has declined to set any bottom lines saying he would leave negotiators to do their job. When they reported back to the Government it would not sign up to an agreement unless "overall" it was in New Zealand's best interest to do so.
There was always give and take in deals but Mr Key said he rated Pharmac highly. "We'd take a fair bit of convincing that that wasn't the right model."
- NZPA